ASI Awards Annual $1,000 Industry Intern Scholarship To Creative Videographer
2022 winner Vivian Kamin interned at 1338Tryon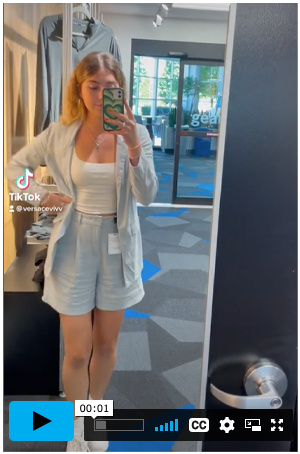 TREVOSE, PA – October 28, 2022 – Summer intern Vivian Kamin won a coveted $1,000 annual scholarship from the Advertising Specialty Institute® (ASI) after submitting a clever "Day in the Life" TikTok video on her experiences working at distributor 1338Tryon (asi/287946).
Kamin, of Beaverton, OR, was among nearly 280 young people who participated in the 2022 ASI Summer Internship Program. ASI is the leading technology, marketing and information provider in the $23.2 billion promotional products industry.
This year's interns worked at eight supplier and 160 distributor companies around the U.S. and Canada, a 21% increase over 2021. Participants in the summer program competed for the scholarship by submitting short "Day in the Life" videos on their internship experience, with ASI's corporate marketing team choosing a winner and four finalists.
Scholarship finalists were Kayla Huglen at Liquid Screen Design (asi/254663) in Minneapolis; Austin Rivera at Elevate Innovation (asi/186791) in Fort Lauderdale, FL; Arielle Lokietek at Ligon Marketing (asi/254233) in Lakeland, FL; and Ellie Burrows at Free Advertising Inc. (asi/198245) in Howell, NJ.
Kamin's video showed off the many skills she learned over the summer, including order processing, customer service and design. "I'm so lucky I get to work with the most amazing, hard-working women," Kamin said in the video of the woman-owned distributorship, based in Portland, OR.
---
"ASI's ultimate hope is to introduce more young people to a creative, exciting career and to the advertising power of promo products," said ASI's Jenna Davidowicz
---
The ASI Summer Internship Program, available to ASI-listed suppliers and distributors, runs from May to September each year. The ASI program is free to ASI members who hire one or more interns to work at their company. Hiring an intern helps companies gain brand advocates, get fresh ideas, enjoy an extra set of hands and create a talent pipeline for future hiring.
"ASI's program provides everything the interns need to know about ASI and the industry, allowing our members to focus on training their intern on important aspects of their business," said Jenna Davidowicz, ASI manager of corporate marketing and the industry internship program. "ASI's ultimate hope is to introduce more young people to a creative, exciting career and to the advertising power of promo products."
Heather Comerford, CEO of 1338Tryon, said Kamin used the money she earned over the summer to fund a trip to Machu Picchu in Peru and was thrilled to also win the scholarship. Kamin had repeatedly thanked Comerford for the internship and given her a heart-felt card. "These are the reasons intern programs are worth having," Comerford said. "We learned as much from her as she learned from us."
In addition to the scholarship opportunity, ASI offers participating interns free ESP access for the summer; ASI University webinars with important industry information; an invitation to attend ASI Show Chicago in July; and a certificate of completion. Interns also have the opportunity to interact with ASI staff and other program participants on Instagram, on the @asi_internshipprogram page. ASI also provides tools on the intern website to help members find interns.
Since starting its industry intern program in 2016, ASI has helped train and mentor 1,580 interns.
For more info on the 2023 intern program, visit internprogramasi.com or contact ASI's Jenna Davidowicz at [email protected].
About ASI
The Advertising Specialty Institute (ASI®; asicentral.com) serves a network of 25,000 suppliers, distributors and decorators in the $23.2 billion promotional products industry. ASI's flagship product, the technology platform ESP®, manages the industry's entire supply and marketing chain. ASI also produces award-winning digital content, live events and educational programs that enable companies in 53 countries to be more efficient, productive and profitable. ASI's media and research operation provides the most authoritative business content in the industry, and the ASI Certification Program features 200+ live and online education courses for industry professionals. The company, family-owned and -operated since 1962, is proud to have been consistently ranked among the "Best Places to Work" in Philadelphia and Bucks County, PA.