Savannah Bananas Mastermind And Ritz-Carlton Exec Headline ASI's 2024 Trade Shows
ASI connects the industry with star-studded trade shows and five hosted-buyer events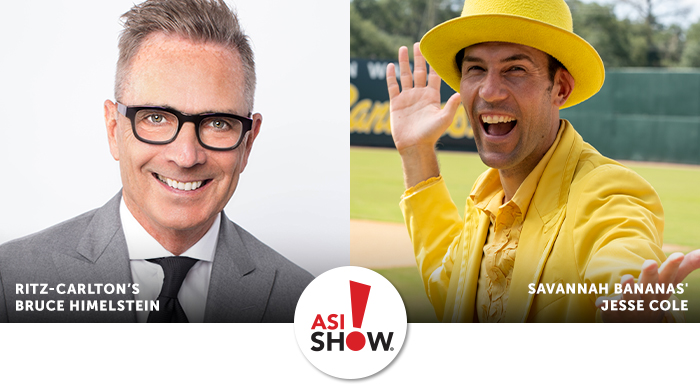 "Although wildly different, the brains behind two of the world's leading brands will detail sales and marketing strategies that I know will resonate with distributors in the promo industry," said ASI CEO Tim Andrews
| | |
| --- | --- |
| TREVOSE, PA – October 20, 2023 | |
The marketing mastermind behind the baseball phenomenon Savannah Bananas and the Ritz-Carlton executive who transformed customer service for one of the world's most recognizable luxury brands are headlining the upcoming Orlando and Fort Worth trade shows hosted by the Advertising Specialty Institute® (ASI).
Often compared to Walt Disney and PT Barnum, Savannah Bananas owner Jesse Cole will share the hard-earned strategies that helped Georgia's exhibition barnstorming team earn over 1 billion social media views and add 500,000+ fans to the waiting list for tickets. Cole's keynote takes place Friday, January 5 during ASI Show Orlando.
Bruce Himelstein, former chief sales and marketing officer for Ritz-Carlton, will share insider tactics honed during 30+ years of surpassing customer expectations. In his keynote, he'll explain ways he successfully implemented the renewal and transformation of the trusted luxury brand. His keynote takes place Wednesday, March 6 during ASI Show Fort Worth.
"Although wildly different, the brains behind two of the world's leading brands will detail sales and marketing strategies that I know will resonate with distributors in the promo industry," said Timothy M. Andrews, president and chief executive officer of ASI, the leading authority in technology, marketing and information for the $25.8 billion promo industry. "Jesse Cole single-handedly transformed the 200-year-old sport of baseball and Bruce Himelstein refined the way companies articulate their brand and provide customers with top service – the cornerstones of our industry. Registration is open!"
Throughout 2024, ASI Show will host three large trade shows and five hosted-buyer events designed to help distributors and suppliers supercharge their business. Each trade show will feature top exhibitors, high-profile keynoters, full-day immersive education and fun and informative networking, including a Lunch & Learn and New Product Preview Reception showcasing suppliers' hottest products.
Registration is already open for ASI's 2024 ASI trade shows:
In addition to Jesse Cole, ASI Show Orlando, January 3-5 at Orange County Convention Center, the first industry trade show of the year, also features a keynote by Beth Paretta of Paretta Autosport, the first woman-owned, woman-driven team in the INDYCAR series, along with an ASI Gala at Planet Hollywood (gala tickets $50 through December 10).
In addition to Bruce Himelstein, ASI Show Fort Worth, March 4-6 at Fort Worth Convention Center, features an ASI Gala at River Ranch Stockyards (gala tickets $25 through December 10).
ASI Show Chicago, the largest promo products trade show in the Midwest, July 23-25 at McCormick Place, features keynotes by Ramon Ray, a four-time entrepreneur, best-selling author and in-demand expert on business growth, along with Carolyn Strauss, a sales and persuasion expert who sold over $160 million on the Home Shopping Network. The ASI Gala is at the House of Blues.
ASI distributor members can register today to take advantage of everything an ASI Show has to offer, including free sales, marketing and social media classes. Non-members are also encouraged to attend and can access the same benefits for a nominal fee.
ASI Show also posted dates for its 2024 fASIlitate hosted-buyer events, which bring together top suppliers and million-dollar distributors for three days of scheduled one-on-one meetings:
Daytona Grande Oceanfront Resort, April 15-18, Daytona Beach, FL
The Windsor Court, May 6-9, New Orleans, LA
Hilton Santa Monica Hotel, June 10-13, Santa Monica, CA
The Ritz-Carlton, September 9-12, Denver, CO
ASI ConneX, the largest hosted-buyer event in the industry, takes place October 7-10 at Arizona's Hilton Phoenix Tapatio Cliffs Resort. More details and registration coming soon.
For information on ASI Show, please contact Andy Cohen, senior vice president of events, media and marketing services, at [email protected]. For info on exhibiting at 2024 ASI Shows, contact Meghan DeFrancesco at [email protected]. Check asishow.com for the latest updates and schedules on all ASI shows and events.
About ASI Show
The ASI Show Family of Events features ASI Show, fASIlitate and ConneX, which foster business-building relationships among ASI distributor and supplier members. ASI Shows, the flagship series, are large-scale, in-person convention center trade shows held in Orlando, Fort Worth and Chicago. fASIlitate is a hosted-buyer event that brings together the industry's elite – top suppliers and million-dollar distributors – for three days of scheduled one-on-one meetings in select hotels across the country. ConneX is the largest hosted-buyer event in the promotional products industry. Visit asishow.com for more information on the full event portfolio.