ASI Unveils Key Insights From The Exclusive 2023 State & Regional Sales Report
The South still leads the nation, with a commanding 41% of all U.S. promo sales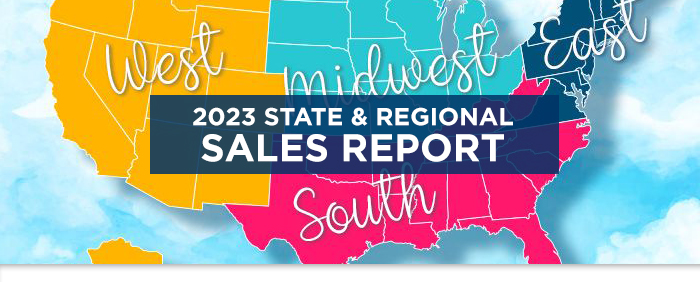 "In a business landscape that thrives on data-driven decisions, ASI's latest research report provides a practical tool to navigate state-by-state prospects across the promo products market," said ASI's C.J. Mittica
| | |
| --- | --- |
| TREVOSE, PA – October 6, 2023 | |
The Advertising Specialty Institute® (ASI; asicentral.com), the leading authority in the $25.8 billion promotional products industry, today released major takeaways from its exclusive 2023 State & Regional Sales Report. The report analyzes sales data from every state across the nation's four major regions, offering distributors core insights into geographic opportunities to help steer future business strategies.
"In a business landscape that thrives on data-driven decisions, ASI's latest research report provides a practical tool to navigate state-by-state prospects across the promo products market," said ASI Media Editor-in-Chief C.J. Mittica. "Our report sheds light on regional sales trends, uncovering growth potential while equipping distributors with the knowledge needed to make informed choices in a constantly evolving industry."
The comprehensive report is based on extensive research, data analysis and distributor feedback into 2022 sales, the latest available, revealing total U.S. industry sales of $23.8 billion, showing 11% year-over-year (YOY) growth. Canada added another $2 billion to the industry's overall total.
The South continues to lead the nation, accounting for a significant 41% of all promo product sales, with a total of $9.9 billion. The West, coming in second with $5.4 billion, up 11% YOY, boasts some of the fastest-growing states' sales figures in the country. California's growth slowed, but still came in at $1.7 billion. Meanwhile, the East and Midwest have demonstrated consistent, stable increases in recent years and remain areas of lucrative opportunities.
The full 2023 State & Regional Sales Report (#ASIresearch), exclusive to ASI members at asicentral.com/news, offers a deep dive into the sales data for the promo products industry, shedding light on the following key findings:
Nearly 30 states grew promo sales last year by double-digit percentages.
Every single state enjoyed positive growth.
Three of the four biggest states for promo sales – Texas ($3.8 billion), Florida ($1.7 billion) and North Carolina ($1 billion) – grew sales by 23%, 20% and 17%, respectively.
More than half the Midwest states enjoyed double-digit growth, with a region total of $4.3 billion, up 9%.
"The 2023 State & Regional Sales Report reflects ASI's commitment to providing industry professionals with the most up-to-date and relevant data," said report author Nate Kucsma, ASI senior executive director of research. "I'm confident this report will serve as a vital resource for distributors plotting a course for future success."
For more information on the 2023 State & Regional Report, contact C.J. Mittica at [email protected]. Michele Bell is vice-president of ASI editorial, education and special events.
About ASI
The Advertising Specialty Institute (ASI®; asicentral.com) serves a network of 25,000 suppliers, distributors and decorators in the $25.8 billion promotional products industry. ASI's flagship product, the technology platform ESP®, manages the industry's entire supply and marketing chain. ASI also produces award-winning digital content, live events and educational programs that enable companies in 53 countries to be more efficient, productive and profitable. ASI's media and research operation provides the most authoritative business content in the industry, and the ASI Certification Program features 200+ live and online education courses for industry professionals. The company, family-owned and -operated since 1962, is proud to have been consistently ranked among the "Best Places to Work" in Philadelphia and Bucks County, PA.