A-Rod And Dallas Cowboys' Charlotte Jones Headlining ASI Orlando And Fort Worth Shows
Just released: Full schedule of back-to-back action at ASI's Florida and Texas shows this January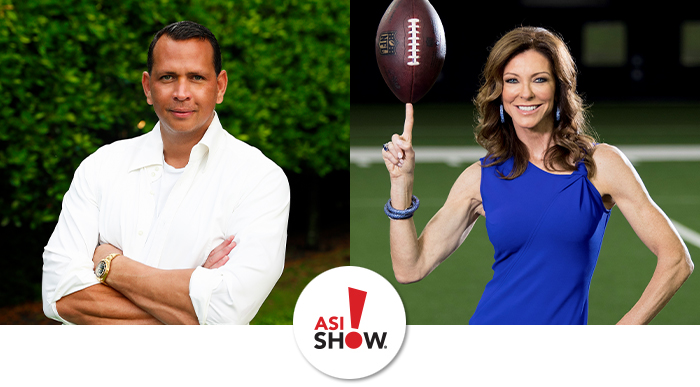 "ASI is delivering trade shows that will help distributors hit the ground running in 2023," said ASI CEO Tim Andrews
TREVOSE, PA – October 27, 2022 – The ASI Show® today shared final details of its double-header Orlando and Fort Worth trade shows lighting up January, delivering packed schedules of high-profile speakers, education and networking parties. During two exhibit days, hundreds of suppliers will show off the latest promo products, sparking thousands of product ideas for attending distributors.
ASI strategically scheduled its first two trade shows (asishow.com) in January to kick off the 2023 sales year with a bang.
ASI Orlando takes place Wed., Jan. 4 through Fri., Jan. 6 at the award-winning Orange County Convention Center, located in the heart of Central Florida. During his Jan. 6 keynote, World Series champ and business mogul Alex Rodriguez, aka A-Rod, will share his incredible trajectory from MLB superstar to CEO of an investment firm with a $2 billion portfolio, give away autographed baseballs and take audience questions. Click here to register for ASI Orlando.
ASI Fort Worth takes place Mon., Jan. 23 through Wed., Jan. 25 at the Fort Worth Convention Center in a walkable, historic downtown. During her keynote on Jan. 25, Dallas Cowboys owner Charlotte Jones, one of the most powerful and innovative women in sports, will deliver her strategies for building the world's most valuable sports franchise. Click here to register for ASI Fort Worth.
Timothy M. Andrews, president and chief executive officer of ASI, the leading technology, marketing and information provider in the $23.2 billion promotional products industry, will interview Rodriguez and Jones during their keynotes.
"ASI's Florida and Texas shows are jam-packed day and night with a robust slate of non-stop action, featuring big-name keynote speakers, full day of education, after-hours promo parties, new product preview reception and closing celebration," said Andrews. "We're delivering trade shows that will help distributors hit the ground running in 2023."
For a heads-up on all the activity, register for a webinar on ASI Orlando and Fort Worth, on Tues., Nov. 8, 2:30-3 p.m. ET, hosted by Andrews. The webinar will feature a special video message from Alex Rodriguez.
In addition to free classes and networking parties, ASI provides ASI distributor members with reimbursement for one night in a hotel room booked directly with partner Connections Housing, along with admission to two keynotes at each show.
ASI Orlando is the first promotional products trade show of the year and the largest on the East Coast. Registration for the Orlando show is already trending higher than 2022. Additional highlights of the Florida show include:
Full day of education on Wed., Jan. 4, 9:30 a.m.-4:45 p.m., providing new insights into sales, marketing, social media and more, taught by subject-matter experts and industry leaders. Plus, on both exhibit days, take advantage of education sessions held on the show floor.
New Product Preview Reception, Wed., Jan. 4, 5-6 p.m., an exclusive preview of new products showcased by exhibiting suppliers, with snacks, beer and wine.
Keynote with TEDx speaker and Fortune 500 consultant Shawn Rhodes, Thurs., Jan. 5, 8:30-9:45 a.m. Rhodes' "Bulletproof Selling" session will feature sales tactics, tips and strategies.
Promo Party at Universal CityWalk, Thurs., Jan. 5, 7-10 p.m. The block party features food, cocktails and live music. The $50 early bird ticket special ends Dec. 15.
ASI Game Zone show floor activity on both exhibit days. Recharge and enjoy a little fun.
Closing Celebration, Fri., Jan. 6, 2:30-3 p.m. Relax over beer and wine, exchange contact info and enjoy a live band.
ASI's Texas show is the first major show in the No.1 region for promo sales and product sourcing. In addition to the keynote with Charlotte Jones, education, New Product Preview Reception and Closing Celebration, ASI Fort Worth also features:
Keynote with social media expert Marki Lemons Ryhal, Tues., Jan. 24, 8:30-9:45 a.m.
Promo Party at River Ranch Stockyards, Tues., Jan. 24, 7-10 p.m., with BBQ buffet, open bar, live music and a mechanical bull. The $25 early bird ticket special ends Oct. 31.
Registration for ASI Chicago, July 25-27, opens in mid-November.
For more info on ASI Show, contact Andy Cohen, senior vice president of events, media and marketing services, at [email protected]. For info on exhibiting at ASI Shows, contact ASI's Meghan DeFrancesco at [email protected]. Check the ASI Show website for the latest updates and schedules for all ASI shows and events.
About ASI Show
The ASI Show Family of Events features ASI Show, fASIlitate and ConneX, which foster business-building relationships among ASI distributor and supplier members. ASI Shows, the flagship series, are large-scale, in-person convention center trade shows held in Orlando, Fort Worth and Chicago. fASIlitate is a hosted-buyer event that brings together the industry's elite – top suppliers and million-dollar distributors – for three days of scheduled one-on-one meetings in select hotels across the country. ConneX is the largest hosted-buyer event in the promotional products industry. Visit asishow.com for more information on the full event portfolio.