Promo Panelists Announced For June 23 ASI Diversity & Inclusion Webinar
Designed to help promo companies learn ways to increase diversity while improving their bottom line
TREVOSE, PA – June 7, 2021 – The Advertising Specialty Institute® (ASI) today announced registration is open for its webinar, "Defining Diversity & Inclusion in 2022 & Beyond," taking place on Thursday, June 23, 2-3:30 p.m. ET, and featuring a panel of promo industry suppliers, distributors and D&I experts.
During the 90-minute webinar, panelists will share:
Constructive advice on implementing stronger diversity and inclusion (D&I) initiatives at the workplace
Why recruiting employees of all ages, colors, sexes, orientations and beliefs helps promo companies grow their business and their bottom line
Actionable takeaways to help leaders make real change in their organization
Register today for ASI's free webinar at https://bit.ly/3GG1B7Z.
The ASI webinar, open to anyone in the $23.2 billion promotional products industry, will be co-hosted by Timothy M. Andrews, ASI president and CEO, and Stephanie Turner-Scott, executive director of ASI Show operations and member of ASI's Diversity & Inclusion Council.
"Practicing diversity and inclusion in the workplace isn't political – it's common sense for companies seeking to boost sales in our global economy," said Andrews. "The stats speak for themselves: two out of three job candidates seek companies with diverse workforces and diverse companies are 70% more likely to capture new markets. ASI's webinar will provide ultrapractical recommendations for promo companies looking to accelerate their workplace inclusion strategy."
| | | | | |
| --- | --- | --- | --- | --- |
| Share: | | | | |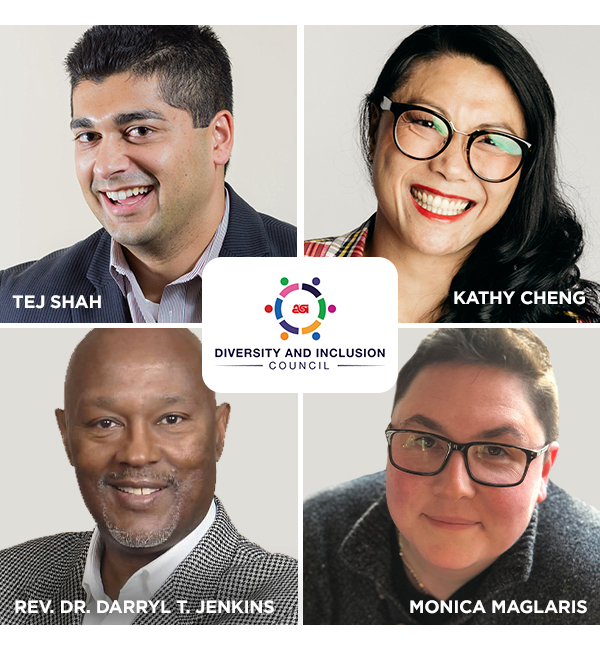 "Practicing diversity and inclusion in the workplace isn't political – it's common sense for companies seeking to boost sales in our global economy," said ASI CEO Tim Andrews.

The panelists are:
Tej Shah, executive vice president/head of global sales and marketing of Top 40 distributor Overture Promotions (asi/288473). Shah, a millennial tech wiz who co-founded the groundbreaking web venture WeRemember, has been featured in media outlets like The Wall Street Journal and The New York Times.
Kathy Cheng, president of WS & Co. and the founder of Redwood Classics Apparel (asi/81627). Cheng was named the 2022 Woman of Distinction by Ascend Canada, which works to enhance the presence, visibility and influence of current and future Pan-Asian business leaders. Cheng also serves on the board of directors for the Canadian Aboriginal and Minority Supplier Council.
Rev. Dr. Darryl T. Jenkins, managing partner of distributor The CPS Store, with 25 years of experience as an executive consultant. Jenkins is author of The Power of Diversity: Leading The Majority Minority, which helps business leaders and organizations effectively navigate the social cultural landscape to build stronger organizations and communities.
Monica Maglaris, co-founder of Liberty Print Co., a certified women- and LGBTQ-owned contract decorating shop in Beacon Falls, CT. Maglaris is chair of Supplier Diversity on the board of the Connecticut chapter of the National Gay & Lesbian Chamber of Commerce.
"Whether you're black, white, young, old, straight, gay, blue, red or independent, the one thing we all have in common is we're all human," said Andrews. "None of us have all the answers, and we don't expect to solve the world's problems in 90 minutes. But providing a place for open dialogue within our own industry and workplace, where we spend a third of our lives, is a pretty good way to start."
For more info on ASI's diversity webinar, please contact Stephanie Turner-Scott at [email protected].
About ASI
The Advertising Specialty Institute (ASI®; asicentral.com) serves a network of 25,000 suppliers, distributors and decorators in the $23.2 billion promotional products industry. ASI's flagship product, the technology platform ESP®, manages the industry's entire supply and marketing chain. ASI also produces award-winning digital content, live events and educational programs that enable companies in 53 countries to be more efficient, productive and profitable. ASI's media and research operation provides the most authoritative business content in the industry, and the ASI Certification Program features 200+ live and online education courses for industry professionals. The company, family-owned and -operated since 1962, is proud to have been consistently ranked among the "Best Places to Work" in Philadelphia and Bucks County, PA.