ASI Global Study: Promo Products More Memorable and Popular
Polled consumers in 27 cities across North America, Europe and Australia; Found commanding advertiser recall among 85% of recipients          
TREVOSE, PA – September 17, 2014 – The Advertising Specialty Institute® (ASI) today released groundbreaking global research proving promotional products deliver commanding advertiser recall among 85% of consumers surveyed.
The superior advertiser recall far exceeds other advertising and marketing alternatives, creating a much higher return on investment (ROI) than other forms of media.  Further, ASI's 2014 Global Advertising Specialties Impressions Study, a cost analysis of promotional products versus other advertising media, found high-impact, cost-effective logoed items can allow even small companies to achieve as high an ROI as major corporations.
Click here to watch ASI's YouTube video on study results and here to read ASI's research and supporting graphics in its entirety.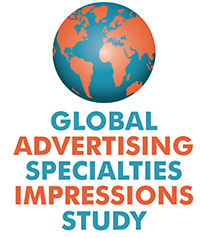 For the study, ASI conducted thousands of in-person interviews with businesspeople and students in key cities across North America, Canada, Europe and Australia. This year's data updates prior years' reports by expanding interviews into two cities in Mexico (Monterrey and Mexico City) and several additional mid-major markets: Tampa, Charlotte, Minneapolis, Denver and San Diego.
"We conduct business in an increasingly global economy, which is why ASI committed time and resources to a study with strong international reach and results," said Timothy M. Andrews, president and chief executive officer of ASI. "Whether we polled consumers in Canada, Mexico or Australia, we found end-buyers who consistently remember the advertisers on logoed items and who feel good about the brands on promo products they use day in and day out."
ASI released the Global Advertising Specialties Impressions Study at the 2014 ASI Power Summit (#asipowersummit), held this year in Scottsdale, AZ and attended by entrepreneurs, multi-national CEOs and small-business owners throughout the $20.5 billion promotional products industry.
The comprehensive cost analysis provides buyers and sellers of logoed pens, caps, T-shirts and other branded items with powerful data to convince clients world-wide that ad specialties can increase sales and brand exposure.
Results found that at about half a penny, promo products have a lower cost-per-impression (CPI) in the U.S. than prime-time TV, national magazine and newspaper ads, and a similar CPI to spot radio and Internet advertising, according to the study.
Study results also show promo products are consistently popular and persistent, with most people owning about 10 items they generally keep for seven months.
2014 study highlights include:
 
Popular Pens. Writing instruments were the most commonly cited item, with over half (56%) of recipients in the U.S. reporting getting at least one in the prior year, followed by shirts (48%) and bags (34%).

 

Big Impressions. Bags, which are generally mobile and therefore seen by more people, generated the most impressions in Sydney, with more than 5,800 a month.

 

Lookin' Good. In the U.S., 42% of polled consumers who keep promotional hats do so because they are attractive, second only to outerwear.

 

Salud! Half of Mexican consumers own promo drinkware, the highest percentage in North America.

 

Tech is Universal. In Madrid, 34% of surveyed residents own a promo USB drive, the highest of any area measured.

 

Ever-Lasting. Products in Europe have long life: Calendars, USB drives and outerwear are kept by European consumers for an average of eight months or longer.

 

More Business. In Charlotte, 66% of consumers who own promo calendar are more likely to do business with that advertiser.

 

Happy in the Heartland. Midwesterners own the most products of any region surveyed.
ASI's research studies are the most influential in the industry's history, continuously cited throughout the B-to-B industry and across the advertising and marketing spectrum.
For more information, contact Nate Kucsma, ASI's market research director, at [email protected].
About ASI
  The Advertising Specialty Institute (ASI) is the largest media, marketing and education organization serving the promotional products industry, with a network of over 25,000 distributors and suppliers throughout North America. ASI leads the industry in technology solutions, providing cloud-based e-commerce, enterprise resource planning software (ERP) and customer relationship management software (CRM). ESP Web® is the industry's leading tool for sourcing hundreds of thousands of products. A family-owned business since 1962, ASI also provides online research, marketing, advertising opportunities, trade shows, education, award-winning magazines, newsletters, custom websites and catalogs to help members sell, market and promote their brands. Visit ASI at www.asicentral.com and on Facebook, Twitter, LinkedIn, YouTube and the CEO's blog.