ASI Study: 25,000 Nationwide Consumers Provide Proof Of Promo's Power And Effectiveness
ASI's 2023 Ad Impressions Study delivers new findings by product, region, age, gender and more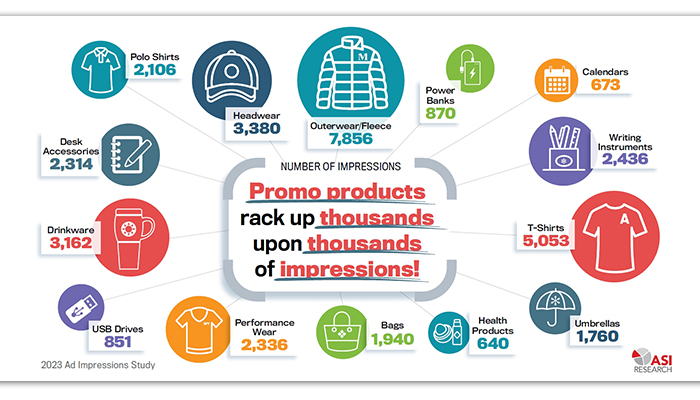 "ASI's 2023 research report offers clear and precise ways to prove to end-buyers and prospective clients that promo products are appreciated, desired and valued," said ASI CEO Tim Andrews
| | |
| --- | --- |
| TREVOSE, PA – May 4, 2023 | |
The latest edition of the Ad Impressions Study spearheaded by the Advertising Specialty Institute® (ASI) provides distributors with definitive data on the reach and effectiveness of promotional products to tout in sales pitches and client presentations.
"ASI's 2023 research report offers clear and precise ways to prove to end-buyers and prospective clients that promo products are appreciated, desired and valued, while returning an incredible return on investment for businesses of every size," said Timothy M. Andrews, president and chief executive officer of ASI, the largest technology, marketing and information provider in the $25.8 billion promotional products industry.
ASI's updated study, produced each year since 2009 by ASI's national award-winning research and editorial team, includes many new findings and remains the most comprehensive study of promo products end-users in the industry. In total, ASI surveyed nearly 25,000 consumers nationwide over an entire year.
The free study (asicentral.com/research) allows distributors to share authoritative proof of:
Longevity of products
Impressions earned over a product's lifetime
Cost per impression (CPI)
Preferred methods of advertising, by age bracket and geographic region
Popularity of Made-in-USA and sustainable products
Positive impact on the advertiser's business
"Our product snapshots deliver detailed information, down to the percentage of consumers who would be more likely to do business with an advertiser that gave them a logoed item," said ASI Media Editor-in-Chief C.J. Mittica. "When you can demonstrate the reusability and cost effectiveness of specific products you'll be sure to wow clients."
In addition to the entire PDF, distributors can download nearly 200 searchable infographics divided by product, state, region, gender, age and more.
"The 2023 Ad Impressions study is the definitive guide to the data and statistics that prove the value of promo to consumers," said study author Nate Kucsma, ASI's senior executive research director. "Companies rightfully want to know what impact their advertising will have on consumers and the data we provide proves that promo products are the best source of advertising around."
Michele Bell is ASI's vice president of editorial, education and special events. Chief contributors to the 2023 study include Digital Art Director Hillary Glen, Senior UI Director Kathleen Fitzgerald, Education Director Kerry Boderman and Managing Editor Joan Chaykin.
For more information on ASI research, please contact Nate Kucsma at [email protected]. Find ASI's breaking news, in-depth reporting, research reports, podcasts and videos at asicentral.com/news and asicentral.com/research.
About ASI
The Advertising Specialty Institute (ASI®; asicentral.com) serves a network of 25,000 suppliers, distributors and decorators in the $25.8 billion promotional products industry. ASI's flagship products, the technology platforms ESP® and ESP+, manage the industry's entire supply and marketing chain. ASI also produces award-winning digital content, live events and educational programs that enable companies in 53 countries to be more efficient, productive and profitable. ASI's media and research operation provides the most authoritative business content in the industry, and the ASI Certification Program features 200+ live and online education courses for industry professionals. The company, family-owned since 1962, is proud to have been consistently ranked among the "Best Places to Work" in Philadelphia and Bucks County, PA.