ASI Media Honored With Prestigious National Awards For Comprehensive Industry Coverage
Judges cited ASI's tenacious, innovative reporting on behalf of the promo industry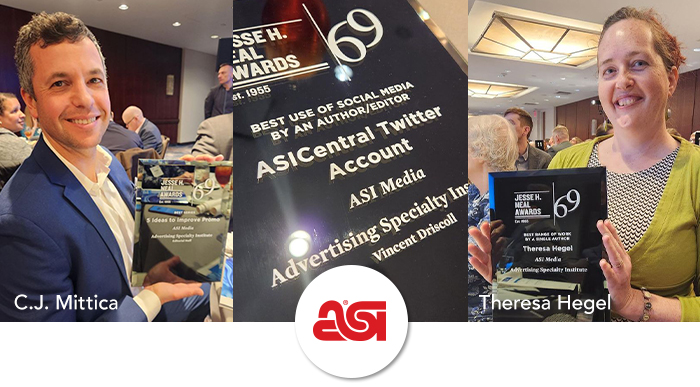 "I'm super proud of the entire editorial team for their diligence, dedication and talent, as evidenced by their award-winning body of work on behalf of the promo industry," said ASI's Michele Bell
| | |
| --- | --- |
| TREVOSE, PA – May 3, 2023 | |
ASI Media staff were honored with three prestige national Jesse H. Neal Awards for journalism excellence, for range of work, social media and a provocative, week-long series, the Advertising Specialty Institute® (ASI) announced today.
The Neal Awards are considered the "Pulitzer Prize" of B2B journalism, recognizing winning reporting on major industry issues and pressing business challenges while helping guide industry leaders to higher levels of effectiveness. Winners were chosen from among publications like Computerworld, Ad Age and Crain's Chicago Business.
The 2023 Neal award winners are:
Executive Editor Theresa Hegel for "Best Range of Work by a Single Author" for her comprehensive coverage of the $25.8 billion promotional products industry, including recent in-depth reporting on critical sustainability issues. This was Hegel's third Neal in this category and her fifth individual Neal overall. Since April 2022, Hegel has spearheaded ASI's efforts to promote sustainability and social responsibility in the promo industry through its resource site Promo for the Planet.
Digital Content Director Vincent Driscoll for "Best Use of Social Media: ASIcentral.com Twitter account." Neal judges said of Driscoll, a 15-year veteran of the #PromoProducts industry and podcast host, "The author's vibrant personality and dynamic energy shine through, particularly in the Facebook video. Additionally, the live-tweeting is both skillfully written and captivating."
The ASI Media editorial staff for "Best Series: 5 Ideas to Improve Promo," which included solution-centric stories on reducing plastic, improving diversity and changing the industry's "brandfill" image. Judges called the series, "A provocative premise for a series – 5 ideas to turn around the promotional products industry. Well executed. Each piece is tightly focused on themes that range from high-level to nuts-and-bolts."
In addition, Digital News Director Christopher Ruvo earned a Neal nomination for "Best Range of Work by a Single Author." Ruvo, who joined ASI in 2011, won two Neal Awards in 2022.
Hegel, who joined ASI in 2014, earned this year's top honors for reporting on subjects like merchandise in the metaverse and B Corp certification, while excelling across a range of social media platforms. Of her work, Neal judges said, "Theresa has assembled an impressive body of work. She excels at both reporting and commentary, demonstrating her versatility as a skilled writer. In addition to her written work, she also showcases her creativity by producing engaging TikTok videos."
"I'm super proud of the entire editorial team for their diligence, dedication and talent, as evidenced by their award-winning body of work on behalf of the promo industry, helping them navigate complicated issues and keep abreast of breaking news," said Michele Bell, ASI vice president of editorial, education and special events.
These are the 23rd Neals won by ASI over the years, and ASI Media is the only industry media entity to ever win a national Neal award. To date, ASI Media has earned a total of 334 journalism awards. C.J. Mittica is editor-in-chief of ASI Media.
The Neal Awards are conducted by the Software & Information Industry Association (SIIA). Fifty-nine awards were presented across 24 categories during the recent 69th annual Jesse H. Neal Awards ceremony in New York City.
According to the organization, "The Neals honor the brightest, most tenacious and innovative journalists, content creators and designers for their passion and exceptional work."
For more information on ASI Media, please contact Michele Bell at [email protected]. Find ASI's breaking news, in-depth reporting, research reports, podcasts and videos at asicentral.com/news and asicentral.com/research.
About ASI
The Advertising Specialty Institute (ASI®; asicentral.com) serves a network of 25,000 suppliers, distributors and decorators in the $25.8 billion promotional products industry. ASI's flagship products, the technology platforms ESP® and ESP+, manage the industry's entire supply and marketing chain. ASI also produces award-winning digital content, live events and educational programs that enable companies in 53 countries to be more efficient, productive and profitable. ASI's media and research operation provides the most authoritative business content in the industry, and the ASI Certification Program features 200+ live and online education courses for industry professionals. The company, family-owned since 1962, is proud to have been consistently ranked among the "Best Places to Work" in Philadelphia and Bucks County, PA.