ASI Names Promo's Superstar Salespeople And Customer Service Rep Of The Year
2022's top honors go to Peter McCutcheon, Stefanie Hargraves, Kate Foley and Michele Adams
TREVOSE, PA – April 12, 2022 – The Advertising Specialty Institute® (ASI) today celebrated the top sales reps and CSR in the $23.2 billion promotional products industry, including Peter McCutcheon of distributor Harper + Scott (asi/220052), Stefanie Hargraves of Top 40 supplier SanMar (asi/84863) and Kate Foley of Top 40 supplier S&S Activewear (asi/84358). Michele Adams, of Proforma Global Sourcing, an affiliate of Top 40 Proforma (asi/300094) was named distributor veteran rep of the year in recognition of a sales skillset honed over 40 years in the industry.
"ASI Media's exclusive list recognizes salespeople who faced extraordinary challenges in the last two years, moving from surviving to thriving by building stronger, more collaborative customer relationships, devising creative ways to connect online and, above all, providing superior service," said Michele Bell, ASI vice president of editorial, education and special events. "They helped elevate the professionalism of our entire industry and I'm thrilled to congratulate them."
The ASI Media Salespeople of the Year awards were determined by a panel of ASI staff using the following criteria: annual sales, year-over-year increase in sales, colleague testimonials, prestige of clients and creativity in recent promotional campaigns. Nominees for Salesperson of the Year must generate $1 million or more in sales revenue and the Veteran Rep of the Year must have worked in promo a minimum of 15 years.
Read more about each winner and finalist, including their tips for success and selling style, and watch YouTube video interviews, on asicentral.com/news.
Below are highlights from the careers of 2022's top reps:
| | | | | |
| --- | --- | --- | --- | --- |
| Share: | | | | |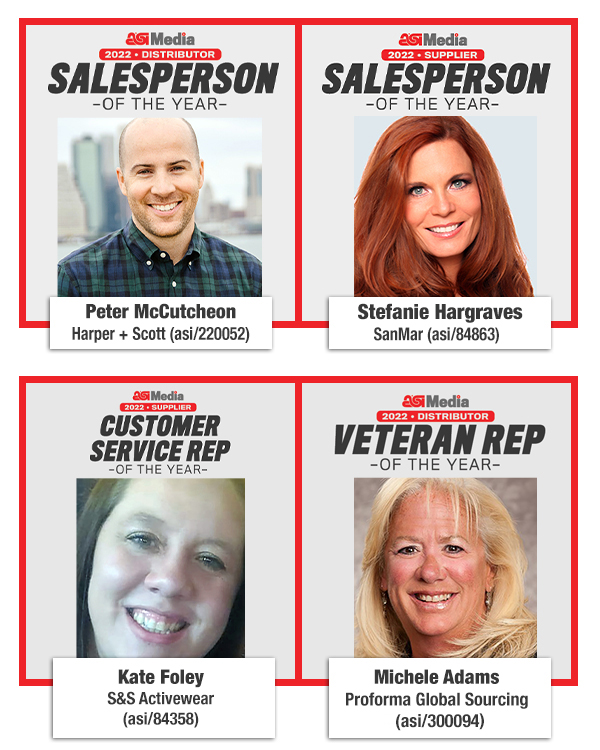 "These winning salespeople helped elevate the professionalism of our entire industry and I'm thrilled to congratulate them," said ASI's Michele Bell

Distributor Salesperson of the Year: Peter McCutcheon of Harper + Scott. Harper + Scott has grown into a powerhouse distributor with $34 million in sales in 2021, and McCutcheon is its highest-performing sales rep. Between 2020 and 2021, McCutcheon, now VP of business development, increased his sales by more than 250%. His selling style in one word? "Partnership." The combo of major success and dedication, coupled with engineering some of the buzziest merch campaigns of 2021, clinched his selection.
Supplier Salesperson of the Year: Stefanie Hargraves of SanMar. When the pandemic hit, Hargraves found a new way to connect by taking virtual sales calls to the next level, creating videos that described SanMar products in fun ways, sparking a trend. Customers rave about her creativity, deep product knowledge and above-and-beyond customer service, all of which helped her more than double her sales over the last five years, adding up to a sales rock star.
Supplier Customer Service Rep of the Year: Kate Foley of S&S Activewear. After working hectic holidays at Kohl's, being in customer service during the pandemic didn't intimidate Foley, who handles a tough Northeast distributor base with ease. She's responsible for growing several accounts by double- and even triple-digit percentages, while helping to increase the spend of one well-established account by about 835%. Her best advice? When customers are your top priority, you'll become their top wholesaler and the first call they make.
Veteran Rep of the Year: Michele Adams, Proforma Global Sourcing. A savvy consultant with a loyal client base, Adams loves the promo industry as much today as when her father first showed her the ropes. At the height of the pandemic, Adams provided more than 40 million people with essential PPE products. In 2021, the year her woman-owned distributorship ranked 255 on the Inc. 5000 list of fastest-growing companies, she grew her revenue by 260% compared to pre-Covid 2019.
"When it came to choosing 2022's salespeople of the year, it took much more than big sales numbers to wow us," said ASI Editor-in-Chief C.J. Mittica. "Now more than ever, industry professionals must be nimble, flexible and willing to go the extra mile on behalf of their clients, especially when confronted with roadblocks like supply chain issues."
For more information on the 2022 Top Salespeople of the Year, contact Mittica at [email protected].
About ASI
The Advertising Specialty Institute (ASI®; asicentral.com) serves a network of 25,000 suppliers, distributors and decorators in the $23.2 billion promotional products industry. ASI's flagship product, the technology platform ESP®, manages the industry's entire supply and marketing chain. ASI also produces award-winning digital content, live events and educational programs that enable companies in 53 countries to be more efficient, productive and profitable. ASI's media and research operation provides the most authoritative business content in the industry, and the ASI Certification Program features 200+ live and online education courses for industry professionals. The company, family-owned and -operated since 1962, is proud to have been consistently ranked among the "Best Places to Work" in Philadelphia and Bucks County, PA.