2022 Distributor Promo Sales Tie Pre-Pandemic Record Of $25.8 Billion
ASI research shows sales jumped 11.4% year over year, stoked by demand, events and higher pricing
TREVOSE, PA – February 7, 2023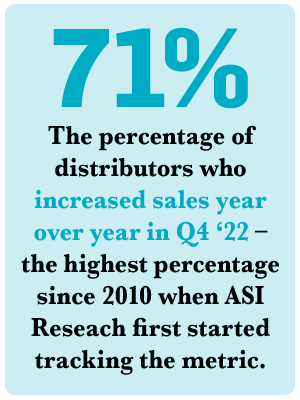 Results of the latest quarterly sales survey released by the Advertising Specialty Institute® (ASI), the leading technology, marketing and information provider in the promotional products industry, shows distributor sales and optimism both rose in 2022, with sales reaching $25.8 billion, the previous pre-pandemic high.
"ASI's findings tell a remarkable comeback story, driven by the agility, resilience and ingenuity of distributor entrepreneurs who powered through a historic downturn to match record sales in record time," said Timothy M. Andrews, ASI president and chief executive officer. "Our industry also experienced dramatic and much-needed change, thanks to distributors and suppliers who embraced technology and new ways of doing business to meet the demands of customers working and living in very different times."
The just-released Distributor Quarterly Sales Survey from ASI Research shows that distributors collectively increased sales 11.4% year over year in 2022 to $25.8 billion, tying the industry's all-time record high, set in the last pre-COVID year of 2019. In 2020, with businesses worldwide shuttered and live events at a standstill, industry revenue fell nearly 20%.
---
"ASI's findings tell a remarkable comeback story, driven by the agility, resilience and ingenuity of distributor entrepreneurs who powered through a historic downturn to match record sales in record time," said ASI CEO Tim Andrews
---
As ASI reports, 2022 sales were fueled by a return of events, strong demand and higher, inflation-fueled pricing distributors passed along to end-clients. "The recovery from 2020's COVID-induced decline has been sharper than I believe most people expected," said Nate Kucsma, ASI's senior executive director of research & corporate marketing. Kucsma spearheads distributor quarterly surveys.
Promo's renewed power was exemplified by Top 40 distributors 4imprint (asi/197045) and HALO Branded Solutions (asi/356000), which both posted annual sales records above $1 billion last year, becoming the first billion-dollar distributorships in the industry's long history, as determined by Counselor's annual Top 40 rankings.
Notably, 71% of distributors increased their sales in the fourth quarter – not only the highest percentage of any quarter in 2021 or 2022 (when distributors had their greatest rebound from pandemic lows), but the highest of any quarter since ASI Research started tracking the metric in 2010. Overall, the hottest markets in the fourth quarter were, in top five order, education, healthcare, construction, nonprofit and professional services.
By the end of 2022, distributors also reported optimism not seen since COVID-19 shutdowns began, with the Counselor Confidence Index measuring distributors' financial health and business optimism rising to a pandemic-era high of 109. The index measured 112 in Q4 2019 before dropping due to the pandemic.
"Our sales increased in 2022 and our business surpassed $1 million in revenue for the first time," Sarah Whitaker, owner of Hopkinsville, KY-based distributorship Williams Advertising (asi/360402) told ASI. "We invested in hiring our first dedicated sales and account rep, and we doubled down on resources and content creation to support her efforts. I think a large part of our sales was a result of events being more in swing in 2022. We also saw an increase in the work we did for political campaigns."
ASI Research surveyed distributor members in January 2023 about Q4 and 2022 sales performance to determine results.
For more information on ASI's sales reports and research, contact Nate Kucsma at [email protected].
About ASI
The Advertising Specialty Institute (ASI®; asicentral.com) serves a network of 25,000 suppliers, distributors and decorators in the $25.8 billion promotional products industry. ASI's flagship products, the technology platforms ESP® and ESP+, manage the industry's entire supply and marketing chain. ASI also produces award-winning digital content, live events and educational programs that enable companies in 53 countries to be more efficient, productive and profitable. ASI's media and research operation provides the most authoritative business content in the industry, and the ASI Certification Program features 200+ live and online education courses for industry professionals. The company, family-owned since 1962, is proud to have been consistently ranked among the "Best Places to Work" in Philadelphia and Bucks County, PA.