ASI Reports Total Distributor Sales Of Promo Products Grew Nearly 12% In 2021
Industry sales rose to $23.2 billion, fueling optimism for 2022 and beyond
TREVOSE, PA – February 24, 2022 – Results of the latest quarterly sales survey released today by the Advertising Specialty Institute® (ASI) prove the ongoing resilience of North American promotional products distributors, with total annual revenue rising to $23.2 billion in 2021, despite ripple effects from persistent supply chain imbroglio.
Nearly three-quarters of promo distributors (72%) increased annual revenue in 2021, according to the Distributor Quarterly Sales Survey from ASI, the largest membership organization in the promotional industry, with a network of 25,000 distributors and suppliers. On average, total distributor sales rose year over year by 12%.
"Distributors and suppliers alike tell me their 2022 is off to a very strong start, with many citing the reopening of sporting, education and corporate events as bullish indicators for the months ahead," said Timothy M. Andrews, ASI president and chief executive officer. "I believe our industry is poised for great things in 2022, 2023 and beyond. The encouraging results of ASI's latest sales survey show beyond a shadow of a doubt that industry members have the passion and perseverance to confront whatever the world throws their way, and to succeed and even soar."
While 2021 sales remained below the $25.8 billion industry record set in the last full pre-pandemic year of 2019, it represents a remarkable bounce-back for an industry whose collective revenue fell nearly 20% in 2020.
| | | | | |
| --- | --- | --- | --- | --- |
| Share: | | | | |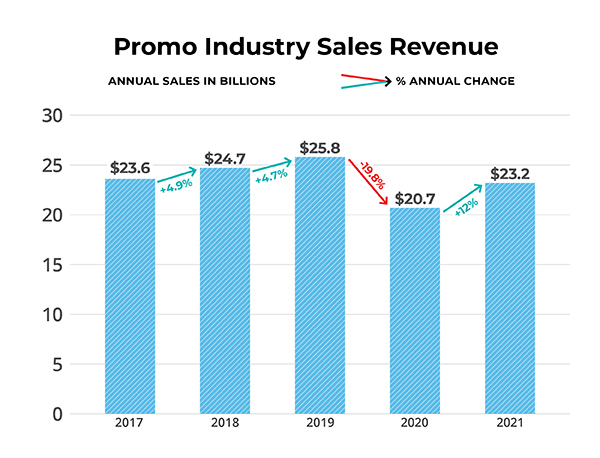 "Distributors and suppliers alike tell me their 2022 is off to a very strong start, with many citing the reopening of sporting, education and corporate events as bullish indicators for the months ahead," said ASI CEO Tim Andrews

Nate Kucsma, ASI's senior executive director of research and corporate marketing, estimates that if lingering supply chain issues hadn't dragged down sales, the 2021 total might have increased by another half-billion dollars. "The stiffest headwinds distributors faced last year weren't caused by COVID, but by product availability and staffing constraints," Kucsma said, adding that once port logjams ease, "Mounting confidence among distributors suggests many believe that 2022 could be another strong year."
In Q4 2021, the Counselor Confidence Index, which measures distributors' financial health and optimism, rose to 107 – a pandemic-era high comfortably above the baseline reading of 100. At the lowest point in its more than 20-year history, the index dropped to 54 in the second quarter of 2020, when COVID put a stranglehold on the economy.
The double-digit annual gains experienced in the third and fourth quarters of last year were the greatest quarterly increases of at least the previous decade, and particularly impressive for an industry that typically experiences low-to-mid single-digit percentage gains.
When asked in ASI's sales survey which markets were most robust in the fourth quarter, distributors cited healthcare, followed by education, construction, manufacturing and nonprofits.
Memo Kahan, president of Top 40 distributor PromoShop (asi/300446), which increased annual revenue 48% in 2021, said, "Our business was strong and did really well as long as inventory was available. We had great success as a new avenue of opportunities came in kitting and distributing packages to people's homes and around the world."
For the full year, distributors with company revenue in the range of $1 million to $4.9 million increased sales, on average, by 14.5% – the highest among all distributor sizes.
As for 2022, Jo Gilley, CEO of Top 40 distributor Overture Promotions (asi/288473) and a member of Counselor's Power 50 list of promo's most influential people, told ASI Media she believes distributors' total sales this year will outpace 2021. "Trade shows and events are moving back to in-person," Gilley said. "The supply chain bottlenecks will improve throughout the year."
Sales of promo products are fueled by branded items like T-shirts, caps and pens that companies typically give away to promote their business, brand or event, or to thank employees or clients. ASI's Ad Impressions Study proving return on investment (ROI) shows promotional products consistently rank among the most influential, enduring and cost-effective advertising mediums available.
For more information on ASI's sales reports and research, contact Nate Kucsma at [email protected].
About ASI
The Advertising Specialty Institute (ASI®; asicentral.com) serves a network of 25,000 suppliers, distributors and decorators in the $23.2 billion promotional products industry. ASI's flagship product, the technology platform ESP®, manages the industry's entire supply and marketing chain. ASI also produces award-winning digital content, live events and educational programs that enable companies in 53 countries to be more efficient, productive and profitable. ASI's media and research operation provides the most authoritative business content in the industry, and the ASI Certification Program features 200+ live and online education courses for industry professionals. The company, family-owned and -operated since 1962, is proud to have been consistently ranked among the "Best Places to Work" in Philadelphia and Bucks County, PA.