ASI Fort Worth Earns Glowing Reviews And Scores Nationwide Attendance
Dallas Cowboys owner Charlotte Jones confirms importance branded merch plays in building the world's most valuable sports franchise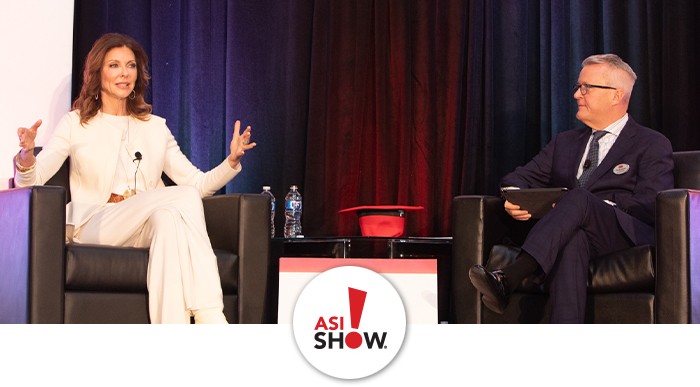 FORT WORTH, TX – January 25, 2023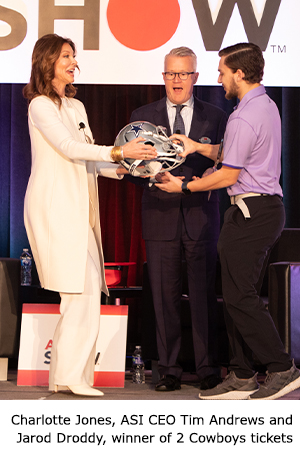 The three-day ASI Show® Fort Worth – the biggest promo show in the Southwest – attracted nearly 2,500 distributors and suppliers who were wowed by packed aisles on a bigger trade show floor, valuable education, numerous networking opportunities and capacity crowds at two keynotes.
Alex Brewster of PROVIAMERICA (asi/93156) said his marketing investment in ASI Fort Worth paid off big time. "We participated in both the Lunch & Learn and New Product Preview events and the results we've seen in our lead generation have been amazing," Brewster said. "The number of leads we acquired at this show has far surpassed every other early show we've participated in this month."
ASI Fort Worth ended Wednesday, January 25, at the Fort Worth Convention Center, with nearly 400 booths, including 50 suppliers new to Fort Worth, and nearly 70% of the Top 40, including SanMar (asi/84863), the biggest supplier in the industry, alphabroder (asi/34063), Charles River Apparel (asi/44620), Evans Manufacturing (asi/52840), Hit Promotional Products (asi/61125) and Showdown Displays (asi/87188).
---
"It was clear from the moment the balloons dropped that everyone was ready to charge into 2023 by doing deals, checking out the latest products, engaging with their supplier partners and sharing fun times together," said ASI CEO Tim Andrews"
---
"I was so impressed by the exhibitors and distributors who refused to let a little chill and showers dampen their enthusiasm and drive," said Timothy M. Andrews, president and chief executive officer of ASI, the largest membership organization and technology provider in the $23.2 billion promotional products industry. "It was clear from the moment the balloons dropped that everyone was ready to charge into 2023 by doing deals, checking out the latest products, engaging with their supplier partners and sharing fun times together. I couldn't be happier with the overall results."
The show's keynote speaker was a warm and engaging Charlotte Jones, chief brand officer for the Dallas Cowboys, a family business owned by Jones, her father business icon Jerry Jones, and her two brothers. Jones shared stories, business advice and love for logoed products during her half-hour presentation. She then sat down for an engrossing Q&A with Andrews, scoring major points with the audience of entrepreneurs by showing off her favorite promo product – a pair of logoed sneakers.
"Branded merchandise is at the core of our identity and what we do," Jones said. "It's certainly our business."
Jones said that when her father, then in the Arkansas gas and oil business, first called to ask her to join the organization, the Cowboys were losing $75,000 a day, with a losing record on the field to match. "I said, 'I don't know anything about running a professional football team' and he said, 'Neither do I. I need somebody I can trust.'"
Working at first from a broom closet of an office, Jones got two directives from her now-famous father: Find a way to stop losing money and whatever you do, don't tarnish the Star.
From that humble beginning, the Cowboys went on to become the first team to win three Super Bowls in four seasons, growing into the world's most valuable sports franchise, worth an estimated $8 billion. Jones said the passion and vision her father instilled in her from childhood drove everything, including the building of AT&T Stadium, a massive marvel of architecture and technology.
The Cowboys' season came to a close on Sunday with a 19-12 loss to the San Francisco 49ers. "Wish we'd be in Philadelphia this weekend facing the Eagles," Jones said, knowing ASI is headquartered near Philly.
"Charlotte was great," said Daniel Hartlieb of On Purpose Branding (asi/270903). "She nailed it as far as being about passion and purpose. That's what drives us and that's what gets us to the end zone."
Seven distributor companies, including AIA (asi/109480), Proforma (asi/300094), HALO (asi/356000) and iPROMOTEu (asi/232119), chose Fort Worth to host sales meetings. Members of the Houston Promotional Products Association and Promotional Products Association of the Southwest also gathered for meetings. Overall, distributor attendees came from 37 states.
Exhibitors raved about the show's value and productivity. "It's been a great show!" said supplier David Finkelman, of Burnside/Sierra Pacific Apparel (asi/87224). "We've been non-stop busy with steady traffic and the great people of Texas and surrounding states have been wonderful with lots of interest in our products. It's a fantastic way for us to kick off the year and really highlight some of the best things we have to offer, especially our new items. Thanks ASI, for having us!"
A steady stream of distributors swarmed the show floor on a cold, rainy opening day. "We are surprised at how many people have shown up on such a horrible weather day and are completely thrilled with the amount of traffic we've had," said supplier Steve Levinson, of Water Promotions, (asi/95395). "We've had great conversations with quality people here and are excited to hear their interest in our products and that they are back to buying. We are energized!"
ASI Fort Worth (#ASIFortWorth) was ASI's second major show of 2023, with the Southwest being the No. 1 region for promotional product sales and product sourcing. According to ASI Media's annual State & Regional Sales Report, the South continues to lead the nation with promo sales of $9 billion, with promo powerhouse Texas alone posting $3.4 billion in promo sales, up 17% from the previous year, leading every state in the South. In 2022, total U.S. sales of promo products totaled $23.2 billion.
ASI also celebrated the 90th birthday of ASI Chairman Norman Cohn, an icon who's worked in the promo industry for 74 years.
During the show, ASI continued its launch of ESP+, an intuitive, integrated and innovative platform designed to blast the promo industry into a new millennium, armed with the best technology in the business. At launch, ESP+ is available to licensed users and most new ASI members first, with data migration for ESP® Web and ESP Online users continuing throughout 2023.
Click here for over 500 photos of all the show action and search social media using hashtag #ASIFortWorth for more.
The next ASI Fort Worth show will be March 4-6, 2024.
For more info on ASI Show, contact Andy Cohen, senior vice president of events, media and marketing services, at [email protected]. For info on exhibiting at ASI Shows, contact Meghan DeFrancesco, ASI's executive director of supplier sales, at [email protected]. Check the ASI Show website for the latest updates and schedules for all ASI shows and events.
About ASI Show
The ASI Show Family of Events features ASI Show, fASIlitate and ConneX, which foster business-building relationships among ASI distributor and supplier members. ASI Shows, the flagship series, are large-scale, in-person convention center trade shows held in Orlando, Fort Worth and Chicago. fASIlitate is a hosted-buyer event that brings together the industry's elite – top suppliers and million-dollar distributors – for three days of scheduled one-on-one meetings in select hotels across the country. ConneX is the largest hosted-buyer event in the promotional products industry. Visit asishow.com for more information on the full event portfolio.