ASI Is Charging Into 2022 With Top Suppliers Committed To Fort Worth Show
Distributor registration surging for Texas-sized trade show Jan. 31-Feb. 2 featuring education, networking, power panel and hot products
TREVOSE, PA – January 12, 2022 – The ASI Show today announced that Top 40 promotional products suppliers like Hit Promotional Products (asi/61125), Showdown Displays (asi/87188) and Koozie Group (asi/40480) are exhibiting at ASI Fort Worth, taking place Monday, January 31 through Wednesday, February 2, at the Fort Worth Convention Center in the heart of a vibrant, walkable and historic downtown.
Plus, a number of Top 40 distributors like HALO Branded Solutions (asi/356000), Proforma (asi/300094), Fully Promoted (asi/384000) and iPROMOTEu (asi/232119) are hosting sales meetings at the Fort Worth show, ASI's second big show of 2022.
"On the heels of our highly successful Orlando trade show, ASI is charging full steam ahead to Fort Worth, with suppliers and distributors ready for much-missed networking and firsthand connections on a show floor packed with 2022's latest products," said Timothy M. Andrews, president and chief executive officer of ASI, the largest membership organization in the $20.7 billion promotional products industry. "ASI remains steadfast in our commitment to bringing the industry together, safely, for the peer-to-peer ideas and inspiration needed to grow everyone's bottom line. As we proved days ago in Orlando, the protocols are pretty simple: Act responsibly and adhere to common-sense safeguards. We can do this!"
Registration is open for ASI Fort Worth, where distributors can connect with hundreds of suppliers able to provide the quick turnaround times clients demand. The 250,000-square-foot convention center is nearby restaurants, shopping and thousands of downtown hotel rooms. The city of Fort Worth boasts 11 districts featuring entertainment and cultural amenities like the Stockyards National Historic District and Fort Worth Zoo.
| | | | | |
| --- | --- | --- | --- | --- |
| Share: | | | | |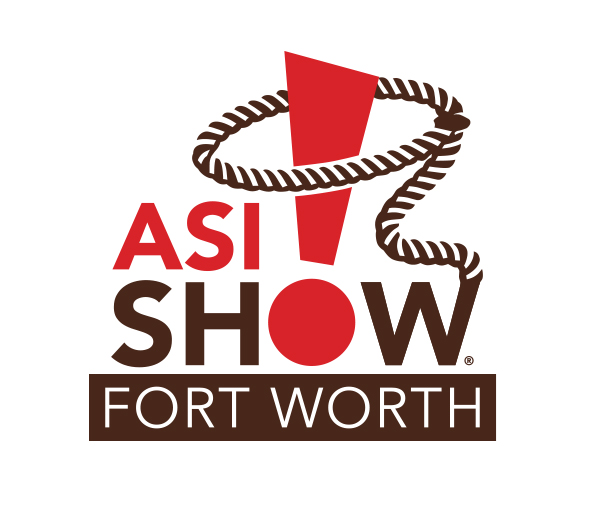 "ASI remains steadfast in our commitment to bringing the industry together, safely, for the peer-to-peer ideas and inspiration needed to grow everyone's bottom line," said ASI CEO Tim Andrews.

For 2022, ASI Show shook up the show format, maintaining popular features like after-hours gatherings, free education and mini hot dogs, while adding topical sessions and an even greater emphasis on new products. Free perks include professional business headshots and a chance to create your own barbeque dry rub. Key highlights of ASI Fort Worth include:
Education Day, 11 a.m.-5 p.m., Mon., Jan. 31
Features 16 classes focused on Distributor Success, Social Media and Marketing, Product Decoration and Business-Building Fundamentals, as well as Power Sessions on both exhibit days. The day closes with a brand-new interactive "Education Day Wrap-Up: Tactics & Takeaways," from 4-5 p.m., refreshments and numerous ASI Show speakers recapping the most important tips from their sessions.
"Promo in '22: Predictions From Top Industry Leaders," 8:30-9:45 a.m., Tues., Feb. 1
ASI Vice Chairman Matthew Cohn headlines a panel discussion with four industry power players: Tracey Barton, director of promo sales for Top 40 distributor Deluxe/Safeguard (asi/316203); Mike Brugger, president of Fully Promoted; Lexi Fiegener, a top sales rep with HALO; and Jon Norris, COO of top supplier Starline (asi/89320). Panelists will provide actionable advice on pressing topics like delivery and supply chain issues and staffing and inventory shortages, plus info on hot markets for new sales opportunities.
"Promo Showcase Live: The Industry's Hottest Products & Promotional Ideas on Display," 8:30-9:45 a.m., Wed., Feb. 2
ASI Product Editor Joe Haley hosts an interactive and educational Promo Showcase Live, featuring Fort Worth's most buzzworthy products along with winning ideas for 2022 promotional campaigns.
The Fort Worth show also features two networking receptions:
New Product Preview Reception, 5-6 p.m., Mon., Jan. 31, featuring snacks, drinks and an exclusive preview of hot new products.
Connection Reception, 5-6:30 p.m., Tues., Feb. 1, steps away from the exhibit hall, with food, open bar and live music.
The 2022 ASI Show mobile app – available to download from the Apple App Store or Google Play – goes live later this week and includes an interactive exhibit hall floor map, exhibitor list and full schedule of education and activities.
The safety and well-being of exhibitors, attendees and the community continue to be a number-one priority for ASI at its three-day Fort Worth show, with ASI working closely with the convention center and all contracted hotels to ensure precautionary measures are in place. Safety measures will be updated as the show nears based on current CDC recommendations and any government, state and federal mandates and can be accessed at asishow.com/shows/2022/fort-worth, under the Health & Safety Plans tab.
In 2021, ASI safely hosted six in-person events, including four hosted-buyer fASIlitates. Last week's ASI Show Orlando earned overwhelmingly positive feedback and drew over 3,000 supplier and distributor professionals excited to reunite and make valuable in-person connections on a busy show floor jammed with over 500 booths showcasing the top, in-stock products of 2022.
Registration for ASI Chicago, Tuesday, July 19 through Thursday, July 21, opens later this month.
There are three fASIlitates scheduled for 2022: in Clearwater Beach, FL, March 7-10; Salt Lake City, UT, June 13-16; and Scottsdale, AZ, September 19-22. Plus, ASI's unique hosted buyer event, ConneX, returns October 10-13 at the Arizona Grand Resort in Phoenix, AZ.
Check the ASI Show website (asishow.com) for the latest updates and schedules for all ASI shows and events. Register online today or call ASI's registration specialists at 800-546-3300. Click here to submit registration questions.
About ASI Show
The ASI Show Family of Events features ASI Show, fASIlitate and ConneX, which foster business-building relationships among ASI distributor and supplier members. ASI Shows, the flagship series, are large-scale, in-person convention center trade shows held in Orlando, Fort Worth and Chicago. fASIlitate is a hosted-buyer event that brings together the industry's elite – top suppliers and million-dollar distributors – for three days of scheduled one-on-one meetings in select hotels across the country. ConneX is a 3.5-day hosted-buyer event featuring one-on-one meetings between elite suppliers and top distributors and a half-day Expo. Visit asishow.com for more information on the full event portfolio.