ASI Show Digital Expo Features Product Sourcing, Education And More Over 30+ Hours
Q&A with SanMar's Jeremy Lott, networking, high-caliber content and special presentations highlight Feb. 3-4 digital trade show
TREVOSE, PA – January 26, 2021 – The ASI Show® today unveiled final details of its February 3-4 Digital Expo, featuring product sourcing with top suppliers, strategic education, networking opportunities and a no-holds-barred Q&A keynote between ASI President and CEO Timothy M. Andrews and SanMar President/CEO Jeremy Lott, ranked No. 1 on the prestigious Counselor® Power 50 list.
The Digital Expo (#ASIdigitalexpo) takes place Wednesday, Feb. 3, and Thursday, Feb. 4, from 10:30 a.m.-5 p.m. ET. Distributors can view exhibitor information and on-demand education at any time over the two days – a total of over 30 hours.
For more details and to register, visit ASIDigitalExpo.com. The expo will be co-hosted by ASI's Andy Cohen (@ASI_AndyCohen), senior vice president of editorial and marketing services, and Michele Bell (@ASI_MBell), vice president of editorial, education and special events.
The two-day virtual event is free to distributor and decorator ASI members and non-members and includes product sourcing in an expo hall featuring tiered levels of exhibitor booths, ability to filter exhibitors by product category, two dedicated networking hours and numerous live educational sessions. Distributors can visit booths in real time and ask any exhibitor questions via direct chats or private videoconferences.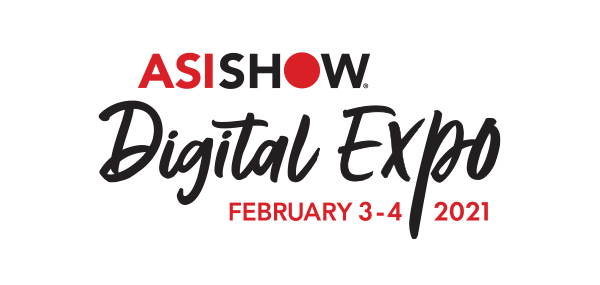 "ASI is thrilled to offer suppliers and distributors an opportunity to safely come together, renew friendships, preview the hottest new products and reboot everyone's business," said ASI CEO Tim Andrews

Plus, from 1-1:50 p.m. ET, Wednesday, Feb. 3, executive business coach Karie Kaufmann, a headliner at the 2019 ASI Power Summit, will deliver a special keynote, "3 Things You Need to Do to Rejuvenate Your Business in 2021." Kaufmann will help business leaders break the COVID slump, increase their marketplace influence and strategize to build sales momentum.
"ASI is thrilled to offer suppliers and distributors an opportunity to safely come together, renew friendships, preview the hottest new products and reboot everyone's business, while enjoying most of the advantages of an in-person ASI trade show, including the same great education, engagement and networking," said Andrews (@Tim_Andrews_ASI). "Expect the resilience, innovation and spirit that make our industry great to be on full display."
Hosted on Hopin, a third-party platform with dedicated customer service, the ASI Show Digital Expo will feature:
Q&A keynote between Andrews and Lott, 1-1:50 p.m. ET, Thursday, Feb. 4, on the industry's most pressing challenges, including the COVID-induced economic downturn, security of systems and data, shipping and pricing concerns and the changing needs of customers. Lott and Andrews will also answer audience questions.
An exclusive discussion at 2 p.m. ET, Wednesday, Feb. 3, of the latest ASI State of the Industry data from the Q4 and annual industry sales surveys.
Full slate of education held throughout both days, on topics such as the increasing importance of video in today's online world, the latest market research and social media strategies and the continuing relevance of dimensional mail.
Interviews with the Cohn family: ASI Chairman Norman Cohn will discuss the industry's future and share a perspective honed by 70 years of promo experience; and ASI Vice Chairman Matthew Cohn and Corporate Vice President Stephanie Cohn Schaeffer, members of the third generation of the Cohn family, will discuss the challenges and opportunities of managing a family business during a pandemic. And, of course, no ASI Show would be complete without mini hot dogs first made famous by Norman's mother, Bess Cohn, so they'll be there, too.
Prospective ASI members can attend the ASI Show Digital Expo but will have limited access to the event areas.
For information on exhibiting contact Matt Barnes, ASI senior vice president of supplier sales and marketing, at [email protected] and for info on attending, contact Andy Cohen, senior vice president of editorial and marketing services at [email protected]. Check the ASI Show website for the latest updates and schedules on all ASI shows and events.
About ASI Show
The ASI Show Family of Events includes virtual and in-person shows and events, including ASI Show, fASIlitate and fASI500, which foster business-building relationships among ASI distributor and supplier members, and include options to meet the needs of the entire membership base. ASI Shows, the flagship series, are large-scale, in-person convention center trade shows held in Orlando, Fort Worth and Chicago. fASIlitate is a hosted buyer event that brings together the industry's elite – top suppliers and million-dollar distributors – for three days of scheduled one-on-one meetings in select hotels across the country. fASI500 is a hosted buyer event that connects highly sought-after suppliers with distributors who sell over half a million dollars annually in the promotional products industry. Visit asishow.com for more information on the full event portfolio.