ASI Diversity Council Hosts Events to Commemorate Hispanic Heritage Month
*Writer Sara Lavenduski and ASI University Education Director Joe Haley also contributed to this report.
No one has had the back of the Latino community in Philadelphia longer than Concilio.
Whether it's organizing a big event that celebrates Latino culture and history, or providing critical social services to families and individuals in need, the Council of Spanish Speaking Organizations of Philadelphia, Inc. (Concilio) has been there for more than 60 years.
Indeed, founded in 1962, Concilio is the oldest Latino organization in Philadelphia and has a well-established reputation for providing family service to the community.
"Our mission is to continue to be a pillar of strength and courage," said Concilio's Olivia Villarruel during a virtual presentation about the nonprofit to ASI employees.

ASI's Diversity & Inclusion Council organized Villarruel's talk – the kick-off event for several happenings aimed at celebrating the rich culture of the Latino community during Hispanic Heritage Month, which runs from Sept. 15 through Oct. 15.
Villarruel explained that Concilio provides important human service programming like foster care, adoption services, youth development, after-school enrichment, victim witness services, parental development guidance, and more.
In responding to attendee questions, Villarruel shared insights into what it's like to work with populations that can be in vulnerable places. "Violence and poverty are the biggest challenges facing the community," she said. "People coming in don't know what the next day will look like for them. Bringing comfort (and help) to them is huge for us."
With the holidays and winter just around the corner, Villarruel said some of the biggest current needs are for coats and items for children. "Toys, crayons and coloring books for foster children – they're really needed," she said.
While Concilio is there in the hard times, it's also a catalyst for celebrating the myriad good that grows from Philadelphia area Latino culture.
For instance, Concilio organizes Hispanic Fiesta, which features musical entertainment and local vendors offering Latino flair in food, clothing, and much more. Then there's the Celebration of the Three Kings, or "El Dia de Los Reyes." Occurring on the Twelfth Day of Christmas, January 6, the celebration marks the visit of the Three Wise Men to baby Jesus and centers on storytelling, gift-giving, food and more.
Perhaps Concilio's most visible event, though, is its long-running annual Puerto Rican Parade. It typically draws 1,500 marchers and more than 5,000 attendees, while enjoying live television coverage on 6ABC. Despite persistent rain and cool temperatures during parade day this year (Sept. 24), crowds were still strong and the mood was high, Villarruel said.
"The rain didn't stop people from coming out," she shared.
There's a resilience in that show-out – a love of culture and community – that's indicative of the spirit of the people that Concilio serves.
Employees Connect Through Dance
ASI also invited employees to grab their dancing shoes and welcome Michael Andino of La Luna Dance Studio, who offered a Latin dance demonstration for employees.
"You'll easily get in your 10,000 steps a day with dancing," said Andino, who was born in Manhattan and grew up in Ecuador before coming back to the U.S. "People finish up at work and come to the studio in the evening. It's a great way to get in shape and meet people."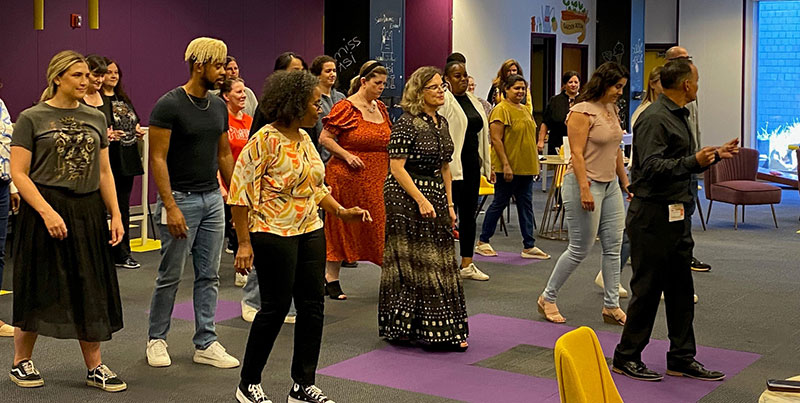 Michael Andino (far right) of La Luna Dance Studio in Philadelphia taught basic salsa and bachata dance steps to employees.
Andino taught about 25 employees a few basic salsa and bachata dance steps, which he says are the two most popular on the Latin dance scene at the moment. Attendees also enjoyed adult beverages and Latin foods.
Salsa, Andino told attendees, originated in Cuba – originally, it was a way for Afro-Cuban slaves in the 19th century to pray during oppression. Soon, it spread to private homes and then to entertainment venues. Visitors to Cuba brought salsa back to their home countries and added their own "spice" to it, said Andino.
"Salsa means 'sauce,' which you make to your own individual taste," said Andino. "In the U.S., jazz elements were added. Europeans added piano and Puerto Ricans added brass, for example. If you listen to it enough, you can tell where the music is from."
Whereas salsa is a vertical dance (front to back), bachata is more horizontal (side to side). Andino called bachata "the new kid on the block" of Latin dance. It originated in the Dominican Republic, where it was frowned upon and deemed "lower-class." But in recent decades, it arrived in the U.S. – particularly in places like Washington Heights in New York City, home to a significant Dominican population. There, its popularity soared beginning in the early 2000s and it's been adapted by a number of artists.
"I went into the demo knowing nothing and left knowing a few basic moves, as well as some history of the origins of the music and dances," said Emma O'Sullivan, senior manager of content marketing. "I also got to meet some new colleagues I hadn't had a chance to speak with (or dance with!) before."
Sharing Culture Through Food
To mark the final week of Hispanic Heritage Month, ASI welcomed guest chef Jorge Barillas, senior chef manager with CulinArt and a native of Guatemala. He prepared a full menu of Latin food inspired by recipes and practices from Central America.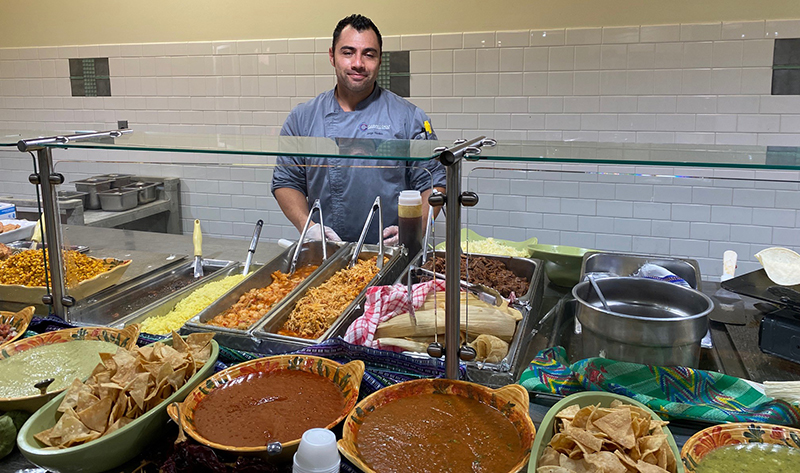 Jorge Barillas, senior chef manager with CulinArt, prepared a Central America-inspired menu for Bucks County Tech Park employees.
Among the offerings were birria (beef) and gobernador (shrimp and cheese) tacos; hilachas de pollo; chicken tamales; empanadas; black bean tostadas; corn tortilla nachos; and four different salsas: Salsa Taquera (green salsa), Salsa Campechana (made with dried chilis), Salsa Roja (red salsa) and Avocado.
"When people in the U.S. think of Spanish food, they mostly think of Mexican," said Barillas. "But Central American food shares the same spices and some of the same recipes."
Just outside the cafeteria, local hot sauce maker Radhi Fernández, owner of Philadelphia-based Faiya, brought sauces to taste and purchase – including Sweet Summer Heat (his first offering, made with pineapple), Salsa Verde and Purple Flame (made with blueberries).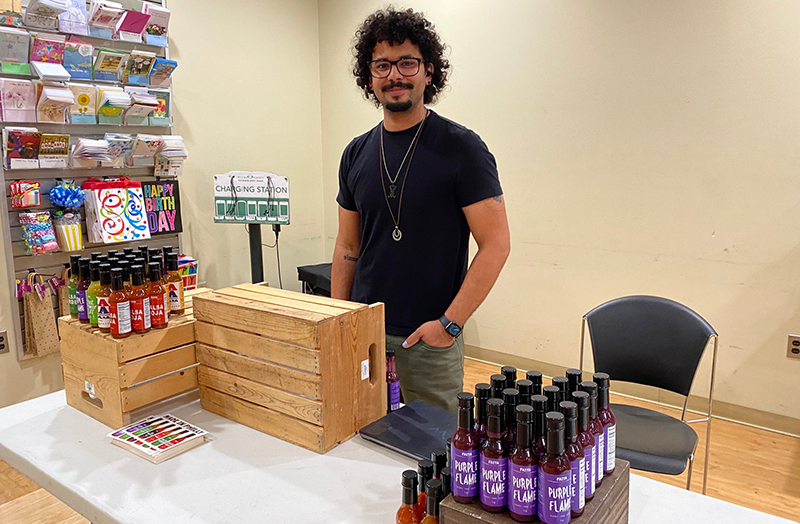 Radhi Fernández, owner of Faiya, with his homemade hot sauces.
Fernández tended (grudgingly, he admits) the community garden at his previous job at Johnson & Johnson and found he had a knack for it. What started as a surplus of peppers turned into his Philadelphia-based production business and a new full-time gig he never expected.
"I wanted to plant the hottest peppers I could find, just to be annoying," he told ASI University Education Director Joe Haley. "I planted Carolina reapers and started making sauce at the end of the season. I gave it to my coworkers at J&J and everyone liked it. Once the pandemic started, I started making it at home and selling it online and the rest is history."
For every bottle purchased, a meal is donated to people need through a partnership with Philabundance.
ASI University Education Director Joe Haley speaks with Radhi Fernández about the story behind his hot sauce business.
It's important to take the time to learn about different cultures from diverse representatives, says Carol Albright, senior vice president of human resources. "Hispanic Heritage Month is a special time for all of us at ASI to come together and celebrate the vibrant cultural contributions of our Hispanic community," she says. "Thanks to the incredible efforts of the ASI Diversity and Inclusion Council, they've made it possible for us to engage in wonderful local community initiatives, activities and learning opportunities."