ASI Orlando Honored With 2022 Comeback Award For Business Excellence
Trade Show News Network (TSNN) awards celebrate achievement, innovation and leadership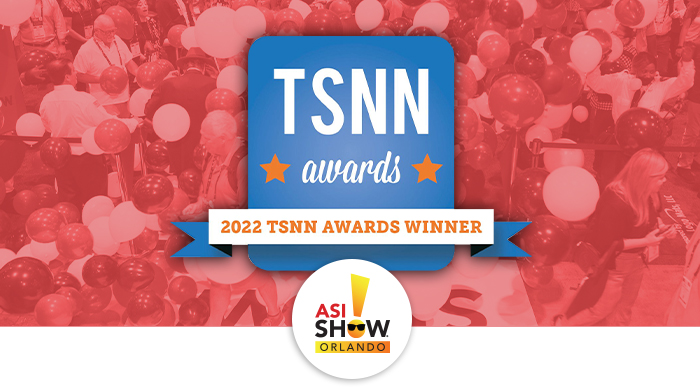 "ASI is all about making connections for our members, and our ultimate goal is to create a trade show experience that allows everyone to build long-standing business partnerships," said ASI's Stephanie Turner-Scott
TREVOSE, PA – November 22, 2022
The ASI Show® today announced its 2022 Orlando trade show was recently honored with the Comeback Award for Business Excellence by the Trade Show News Network (TSNN), the world's leading online resource for the trade show, exhibition and event industry.
The 2022 TSNN Comeback Awards celebrated shows that demonstrated resilience by "coming back" in areas such as attendance, overall business excellence and customer connectivity. ASI Orlando won for demonstrating a positive impact on the Orlando community while delivering a successful show for attendees and exhibitors in a challenging time.
ASI Show is the only trade show organization in the $23.2 billion promotional products industry to win a TSNN award and was among only five Comeback Award winners representing a broad variety of industries.
"TSNN had the honor of awarding 'stand out' shows that against all odds dug deep and came back in truly amazing ways," said TSNN President Rachel Wimberly. "Your team pulled out all the stops to ensure your Orlando show was a resounding success."
The 12th Annual TSNN Awards and Education Conference was held at the Caesars Forum in Las Vegas. Award winners included trade shows and event organizers from across the U.S., including Consumer Technology Association (CES), the most influential tech event in the world.
"This is an amazing honor and we are thrilled to be recognized by TSNN for such a prestigious award during a time of recovery," said Stephanie Turner-Scott, executive director of ASI Show operations. "ASI is all about making connections for our members, and our ultimate goal is to create a trade show experience that allows everyone to build long-standing business partnerships that will thrive in the years to come. As we approach 2023, we continue to strive for excellence and explore opportunities to engage, excite and educate our members with new and innovative ways to serve their clients."
ASI Orlando, the promo industry's first trade show of 2022, earned overwhelmingly positive feedback and drew over 3,000 supplier and distributor professionals excited to reunite and make valuable in-person connections on a busy show floor jammed with over 500 booths showcasing top, in-stock products.
"We're very thankful to the thousands of distributors and suppliers who helped make our Orlando show a winner," said Matt Barnes, ASI senior vice president of supplier sales and marketing. "Our aim was to bring the industry together for three days of important education, networking and sales activities. It's gratifying to know that we delivered a winning event for the promotional products industry and for the local Orlando community."
ASI Orlando 2023 takes place Wed., Jan. 4 through Fri., Jan. 6 at the award-winning Orange County Convention Center, located in the heart of Central Florida. During his Jan. 6 keynote, World Series champ and business mogul Alex Rodriguez, aka A-Rod, will share his incredible trajectory from MLB superstar to CEO of an investment firm with a $2 billion portfolio, give away autographed baseballs and take audience questions. Click here to register for ASI Orlando.
ASI Fort Worth 2023 takes place Mon., Jan. 23 through Wed., Jan. 25 at the Fort Worth Convention Center in a walkable, historic downtown. During her keynote on Jan. 25, Dallas Cowboys owner Charlotte Jones, one of the most powerful and innovative women in sports, will deliver her strategies for building the world's most valuable sports franchise. Click here to register for ASI Fort Worth.
In July 2021, ASI Show once again led the way, reopening the promo industry with a large, successful trade show at Chicago's McCormick Place Convention Center, giving the city's tourism and hospitality industries a much-needed boost, helping put people back to work after months of economic hardship during the COVID-19 shutdowns. Click here to register for ASI's 24th annual Chicago show, July 25-27.
For more info on ASI Show, contact Andy Cohen, senior vice president of events, media and marketing services, at [email protected]. For info on exhibiting at ASI Shows, contact Meghan DeFrancesco, ASI's executive director of supplier sales, at [email protected]. Check the ASI Show website for the latest updates and schedules for all ASI shows and events.
About ASI Show
The ASI Show Family of Events features ASI Show, fASIlitate and ConneX, which foster business-building relationships among ASI distributor and supplier members. ASI Shows, the flagship series, are large-scale, in-person convention center trade shows held in Orlando, Fort Worth and Chicago. fASIlitate is a hosted-buyer event that brings together the industry's elite – top suppliers and million-dollar distributors – for three days of scheduled one-on-one meetings in select hotels across the country. ConneX is the largest hosted-buyer event in the promotional products industry. Visit asishow.com for more information on the full event portfolio.