ASI Employees, CEO And The Norman Cohn Family Gave Big In 2022
ASI helps raise nearly $120,000 to help community non-profits and the people of Ukraine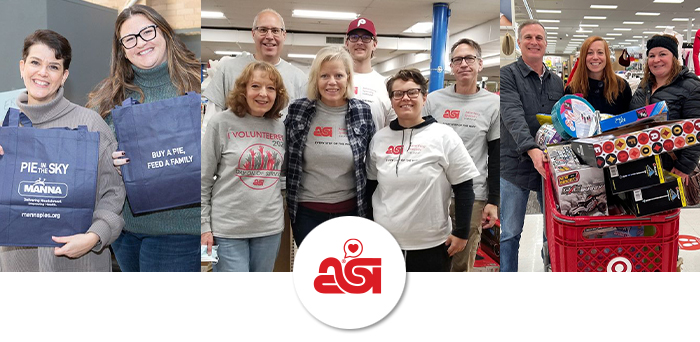 "ASI is a small, family-owned company made up of people with very big hearts, and it's wonderful that so many of our employees work so hard to help others," said ASI Chairman Norman Cohn
TREVOSE, PA – December 20, 2022
The Advertising Specialty Institute® (ASI) today thanked its employees for generous donations they made all year long, helping provide food, hot meals and holiday gifts to help people in their community and beyond.
Along with employees, ASI also thanked generous members of the promotional products industry who contributed $85,000 to an ASI fund drive to provide humanitarian aid to Ukraine, including matching funds given by the Norman Cohn family and Timothy M. Andrews, ASI president and chief executive officer.
"As a boy growing up in Indiana, I remember my holiday gifts were often carried into our home by volunteer firemen, who were delivering presents wrapped by neighbors helping neighbors," said Andrews. "Here at ASI, we've continued to make 'we care' an integral part of our corporate values, with ASI employees thinking of others by generously donating to their neighbors in need."
ASI's Charity Initiative group, formed by employees in 2021, managed numerous fundraisers this year, along with community volunteer opportunities.
"From a very early age, my parents of blessed memory, Bess and Maurice Cohn, taught us the importance of giving back," said ASI Chairman Norman Cohn. "As they often said, 'When God smiles on your parade, it's important you smile on other people's parades.' ASI is a small, family-owned company made up of people with very big hearts, and it's wonderful that so many of our employees work so hard to help others."
In addition to volunteering at the Habitat for Humanity ReStore Langhorne and Horsham Center for Jewish Life, below are the chief organizations ASI employees, Andrews and members of the Cohn family contributed to throughout 2022 in an effort to promote the idea of goodwill toward all:
United Way. Each year, the Cohns match funds employees donate to United Way agencies, for a total of nearly $20,000 donated to the United Way of Bucks County, PA.
18th Annual Holiday Gift Drive. Employees purchased a record-breaking $9,300 worth of toys, bikes, art supplies and electronics, along with cash donations, for area families living in or receiving services through a homeless shelter run by the Family Service Association of Bucks County.
Bucks County Emergency Homeless Shelter and Family Promise of Montco. Nearly $3,400 in cash and 900 pounds of food donated.
Valley Youth House. Employees donated 95 backpacks, duffel bags and suitcases, and $1,000 in payroll contributions to help vulnerable, abused and homeless young people in need of shelter and counseling.
Employee Turkey and Pie Giveaway. Each November, the Cohn family thanks employees by giving them a choice of a free Thanksgiving turkey or pie. Each pie purchased helps the Metropolitan Area Neighborhood Nutrition Alliance (MANNA) Pie in the Sky charity of Philadelphia deliver hot Thanksgiving dinners to people coping with a life-threatening illness and at acute nutritional risk. In addition, employees who opted out of a gift donated the equivalent cost, with a total of $2,000 given to the Philabundance food bank.
Helping Cure Diabetes. In the past 16 years, the daughters of ASI Vice-Chairman Matthew Cohn, Sydney and Mackenzie, have raised $4 million to help fund research for Type 1, or juvenile diabetes, a devastating disease that affects millions of people, including a large and growing percentage of children like them (cohnsisters.com). JDRF is the world's largest charitable funder of diabetes research.
Indiana Initiatives. In 2022, the Hawcreek-Flat Rock Area Endowment fund Tim Andrews helped establish in his Indiana hometown awarded $52,000 in grants for 13 unique projects. In addition, the Hope (Indiana) Area Food Bank Endowment Andrews established funds about 10% of annual needs for the food bank. Plus, Andrews dedicated a history research center adjacent to the Yellow Trail Museum in Hope, IN. At his alma mater, Ball State University, Andrews endowed a Multicultural Center Graduate Assistantship focused on LGBTQ+ (lesbian, gay, bisexual, transgender, queer, plus community) studies, with a preference for LGBTQ+ candidates who identify as BIPOC (Black, Indigenous and people of color). The first graduate assistant was selected and is creating programming and services for students.
About ASI
The Advertising Specialty Institute (ASI®; asicentral.com) serves a network of 25,000 suppliers, distributors and decorators in the $23.2 billion promotional products industry. ASI's flagship product, the technology platform ESP®, manages the industry's entire supply and marketing chain. ASI also produces award-winning digital content, live events and educational programs that enable companies in 53 countries to be more efficient, productive and profitable. ASI's media and research operation provides the most authoritative business content in the industry, and the ASI Certification Program features 200+ live and online education courses for industry professionals. The company, family-owned and -operated since 1962, is proud to have been consistently ranked among the "Best Places to Work" in Philadelphia and Bucks County, PA.