Register Now For The Oct. 13-14 ASI Power Summit: Free To All ASI Members
Virtual summit provides bold ideas for future growth and insight into today's most pressing issues
TREVOSE, PA – September 28, 2021 – The Advertising Specialty Institute® (ASI) today announced registration is filling up fast for its virtual two-day Power Summit, Wednesday, October 13 and Thursday, October 14. The annual event is free to ASI members and features education, networking, fun demos and a rags-to-riches keynote by former PepsiCo VP Richard Montañez.
For more info and to register for the 2021 ASI Power Summit, open to any supplier or distributor in the promotional products industry, visit asipowersummit.com.
This year's theme is "The Future of Promo: Bold Ideas, Big Opportunities, Zero Fear." The 12-4 p.m. ET agenda allows attendees to enjoy numerous sessions while leaving the start and end of each day open. The summit remains virtual to allow hundreds more to attend, minus travel costs and excessive time commitments.
"The ASI Power Summit is consistently cited as the promo industry's premier event because of its unique blend of hard data, innovative market advice and personal, very human stories," said Timothy M. Andrews, ASI president and chief executive officer. "Dedicated industry leaders and top business experts will map out their achievements while providing blueprints for maneuvering today's most pressing issues."
Kicking off the Power Summit at 12:05 p.m. ET Oct. 13 is Richard Montañez, who rose from janitor at FritoLay to VP of PepsiCo. Montañez will provide a first-person account of strategies he employed to manage his own PR crisis over the origin story of Flamin' Hot Cheetos while sharing ways to promote diverse teams and target multicultural markets.
| | | | | |
| --- | --- | --- | --- | --- |
| Share: | | | | |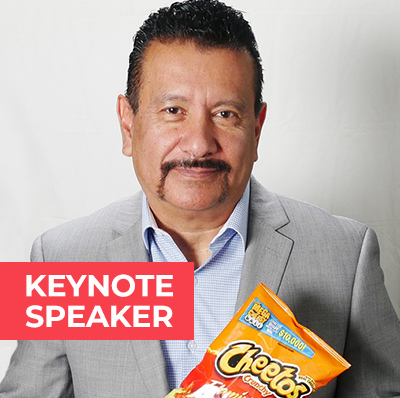 Richard Montañez

"The ASI Power Summit is consistently cited as the promo industry's premier event because of its unique blend of hard data, innovative market advice and personal, very human stories," said ASI CEO Tim Andrews

Below are additional highlights from the 2021 Power Summit agenda:
ASI's Tim Andrews interviews Neil Ringel, CEO of Counselor Top 40 supplier Polyconcept (asi/78897) and former president of North American Delivery with Staples Inc. Ringel will discuss the market disruption caused by COVID-19 along with the industry's top challenges and opportunities.
"The Promo Market in '22: Predictions From Industry Leaders" panel discussion with Dan Pantano, president/CEO of Top 40 supplier alphabroder (asi/34063), CJ Schmidt, president/CEO of Top 40 supplier Hit Promotional Products (asi/61125), Sai Koppaka, president/CEO of DiscountMugs.com (asi/181120), and Brenda Angelini, owner/president of sales at Proforma Angelini, Martin & Associates (asi/491557).
An e-commerce success story from the millennial founders of Swag.com (asi/287954), one of the premier online selling platforms for the promo marketplace. Josh Orbach and Jeremy Parker will share tips on building e-commerce the right way.
"Unraveling the Unprecedented Supply Chain, Inventory & Shipping Issues," with Robert Antoshak, senior advisor of Vidalia Mills, and a supply chain and sourcing expert with over 30 years' experience in the fiber, textile and apparel industries, and Jing Rong, VP of supply chain and compliance for Top 40 supplier HPG (asi/61966).
"Strategies to Find Your Happiness & Success in 2022," with pointers from ASI Chairman Norman Cohn, a 60+-year promo veteran.
Additional topics include sustainability, new revenue streams for promo, cybersecurity, leveraging data, new product and market trends, social media, and hiring, motivating and retaining top talent.
The Power Summit will also feature the annual unveiling of the prestigious Counselor Power 50, an exclusive ranking that highlights the most influential movers and shakers in the promo industry. The list includes executives from distributor and supplier companies as well as other industry members, who are wielding considerable power and influence in a global marketplace during a time of continued economic upheaval.
The ASI Power Summit on the Hopin platform will be interactive. Anyone registered can ask panelists questions during sessions, take polls and play to win prizes during activity breaks. There will also be a charcuterie board demo and the unveiling of "Promo's Got Talent" videos.
Anyone in promo is invited to submit a short video of 30 seconds to one minute showing off their talent, whether it's singing, tap dancing, juggling watermelons or performing "Stupid Human Tricks." For every clip accepted, ASI will donate $100 in the name of those submitting to Feeding America, the nation's largest hunger-relief non-profit. Email or WeTransfer your talent clip to ASI Executive Creative Director Jake Krolick at [email protected] by Friday, Oct. 1. Click for more info.
According to ASI's post-event survey, 90% of attendees said they got new ideas and inspiration from the 2020 Power Summit. Click here to register for the 2021 ASI Power Summit. The event is free to ASI members. The cost for non-members is $499.
For more information on the ASI Power Summit or Counselor Power 50 list, contact Michele Bell, vice president of editorial, education and special events, at [email protected].
About ASI
The Advertising Specialty Institute (ASI®; asicentral.com) serves a network of 25,000 suppliers, distributors and decorators in the $20.7 billion promotional products industry. ASI's flagship product, the technology platform ESP®, manages the industry's entire supply and marketing chain. ASI also produces award-winning digital content, live events and educational programs that enable companies in 53 countries to be more efficient, productive and profitable. ASI's media and research operation provides the most authoritative business content in the industry, and the ASI Certification Program features 200+ live and online education courses for industry professionals. The company, family-owned and -operated since 1962, is proud to have been consistently ranked among the "Best Places to Work" in Philadelphia and Bucks County, PA.