ASI Chicago Wows Promo Industry
Exhibitors and distributors rave about the last large show of 2022; 4,300 attendees enjoy 72 hours of networking and dealmaking at biggest show in the Midwest
CHICAGO, IL – July 21, 2022 – A strong thread of positivity and connectivity ran through a successful, three-day trade show hosted this week by the ASI Show, helping suppliers and distributors in the $23.2 billion promotional products industry come together face-to-face to network, make deals, celebrate and plan for the second half of the 2022 selling season.
"Everything about ASI Chicago – turnout, attitude, feedback, connections and events – can be summed up in one word: positive," said Timothy M. Andrews, ASI president and chief executive officer. "We hit the ground running as soon as the show opened Wednesday, with non-stop show floor action between high-powered, high-velocity distributors and hundreds of suppliers (82 new to Chicago!) offering innovation and in-stock inventory. We're heading into the all-important third and fourth quarters raring to go."
ASI's 23rd Chicago show featured nearly 600 supplier booths lining jam-packed aisles. The show took place Tuesday, July 19, through Thursday, July 21, at McCormick Place Convention Center, the largest center in the U.S. with 2.6 million square feet of meeting and exhibit space. The show attracted a total of 4,300 supplier and distributor professionals, up 23% over the 2021 Chicago show, which was the industry's first after the COVID shutdown.
Overall attendance included people from 45 states and 14 countries, and 413 from Illinois – as well as 94 Chicago-based companies, along with attendees from 314 women- and 139 minority-owned companies, up 29% and 85%, respectively. Of attendees, 276 joined ASI in the last year as new members.
Suppliers told ASI they were thrilled with the show's attendance. "Today was a really great day," said Jeremy Morillo of Next Level Apparel (asi/73867). "It had surges just like a classic ASI Show day from a few years ago. Lots of good conversations and a lot of great questions from our visitors. It was great to get our boots on the ground and talk to those people that are part of the ASI network."
For some exhibitors, it had been over two years between trade shows. "It's been awesome out here to see people, reconnecting with customers," said Chris Thies, of alphabroder (asi/34063), ranked number two on the 2022 Top 40 supplier list released Wednesday. "Awesome traffic and lots of great conversations and ideas stemming from our new products. If you aren't here this year, make sure you get this show on your calendar for next year. ASI Show Chicago is where it's at."

| | | | | |
| --- | --- | --- | --- | --- |
| Share: | | | | |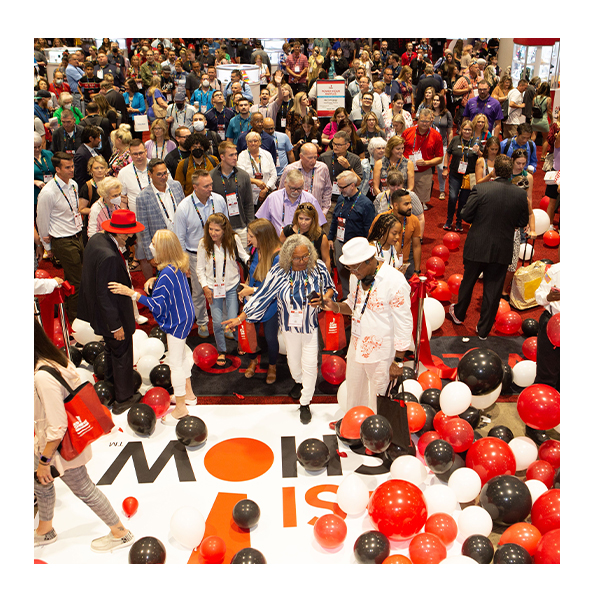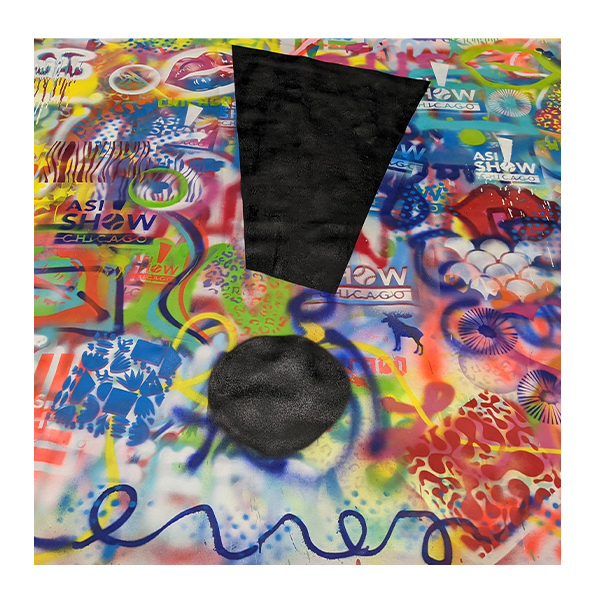 Attendees enjoyed putting their personal stamp on the ASI Chicago Graffiti Wall. @thestudiowip
"Everything about ASI Chicago – turnout, attitude, feedback, connections and events – can be summed up in one word: positive," said ASI CEO Tim Andrews

According to ASI's annual State & Regional Sales Report, total promo sales in the Midwest jumped 9% in 2021 over 2020, to $4.3 billion, as seven of the region's dozen states recorded double-digit gains. Illinois realized 3% growth, to $608 million.
Results of a real-time flash poll ASI conducted with distributors who attended a standing-room-only Education Day wrap-up session Tuesday showed 100% of respondents reporting that revenue has so far increased year over year. On Education Day, more than 500 people, many of them brand-new to the industry, took sales and marketing classes, free to ASI members.
"This show has been great!" said distributor Bridget Jurcisek, of GBS Brandconnect (asi/199850). "I've only been in the industry for about two years and I have learned so much between the education classes and the wealth of information suppliers have shared with me here at the show. I can't say enough about the suppliers – they are phenomenal."
A panel of four promo products industry leaders hosted by ASI Vice Chairman Matthew Cohn on the state of the industry shared advice and positivity. Panelists agreed keeping margins up and adding services offered to clients, while keeping close track of profitability and cash flow, are key to success in the second half of 2022.
All four panelists also reported that 2022 revenue was up compared to last year. Trevor Gnesin, a Power 50 member and owner/CEO of Top 40 supplier Logomark (asi/67866), said his California-based firm's revenue was up 38% over the same time frame.
On Wednesday, the Promo Party Cruise on Lake Superior attracted 500 people who celebrated with food and drink and enjoyed spectacular fireworks. The same night, ASI celebrated the 2022 Counselor Awards honorees at an elegant soiree at McCormick Place.
During a panel Thursday, "SOI Insights & New Products Revealed," Nate Kucsma, ASI's senior executive director of research, and Christopher Ruvo, ASI Media's news director, revealed hot-off-the-presses exclusive data from Counselor's State of the Industry issue, including which markets are primed for growth, sales strategies resonating with buyers and case histories to help you grow sales. Joe Haley, ASI Media's product editor, also showcased new products directly from the ASI Chicago show floor that tied in with the hottest merch and market trends.
"The sessions were phenomenal," said Casie Wagoner of Creative Collaborative Group (asi/170365). "I know you can learn about the industry and understand trends through graphs and articles and statistics online, but to physically hear them presented with the opportunity to ask questions and discuss them with other attendees was very valuable to us."
ASI Show is already planning to wow attendees at ASI's 2023 shows in Orlando (January 4-6), Fort Worth (January 23-25) and Chicago (July 25-27).
For information on ASI Show, please contact Andy Cohen, senior vice president of events, media and marketing services, at [email protected]. For info on exhibiting at ASI Shows, contact ASI's Meghan DeFrancesco at [email protected]. Check the ASI Show website for the latest updates and schedules on all ASI shows and events.
About ASI Show
The ASI Show Family of Events features ASI Show, fASIlitate and ConneX, which foster business-building relationships among ASI distributor and supplier members. ASI Shows, the flagship series, are large-scale, in-person convention center trade shows held in Orlando, Fort Worth and Chicago. fASIlitate is a hosted-buyer event that brings together the industry's elite – top suppliers and million-dollar distributors – for three days of scheduled one-on-one meetings in select hotels across the country. ConneX is a 3.5-day hosted-buyer event October 10-13 in Phoenix, AZ, featuring one-on-one meetings between elite suppliers and top distributors. Visit asishow.com for more information on the full event portfolio.