ASI Media Releases 2021 State And Regional Promo Products Sales Report
The South leads the nation with promo sales of $7.8 billion
TREVOSE, PA – July 28, 2021 – The annual ASI Media State and Regional Sales Report released by the Advertising Specialty Institute® (ASI) reveals which states and regions proved the most resilient for selling promotional products during a historic downturn, while offering strategies, products and trends to help distributors succeed in the coming recovery.
"Optimism abounds as distributors are anticipating strong sales and continued recovery the rest of the year," said Editor-in-Chief C.J. Mittica. "Entrepreneurs, small-business owners and distributor sales reps can use our guide to see what's happening in their region – and why there's reason to be excited."
Click here for infographics and a breakdown of region-by-region highlights from the report, which analyzed 2020 sales while offering insights into capitalizing on 2021 markets and emerging businesses.
The report also identifies "Hot Trends" in each region and includes numerous case studies and success stories from distributors in the four main geographic regions of the U.S. and across numerous states. Highlighted trends include the continuation of virtual events and accompanying home-delivered gifts, creative custom kits to entice new hires and prospective employees, sustainable and recycled products and products with a "give-back component."
| | | | | |
| --- | --- | --- | --- | --- |
| Share: | | | | |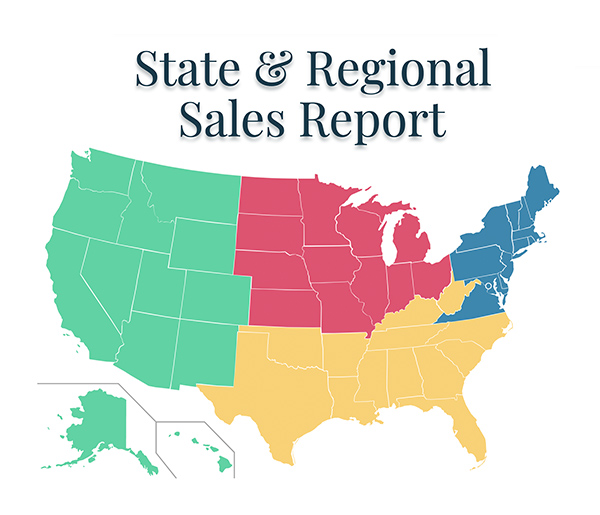 "Entrepreneurs, small-business owners and distributor sales reps can use our guide to see what's happening in their region – and why there's reason to be excited," said ASI's C.J. Mittica

In 2020, owing to the collapse of trade shows, tourism, hospitality and live events that help fuel the promo industry, total sales of promo products were $20.7 billion, a nearly 20% drop over 2019. Since the industry low in Q2 2020, sales have steadily increased in each subsequent quarter.
"Once again, the entire ASI Media team went above and beyond to provide the industry with exclusive, comprehensive data that makes sense of the historic year that was while helping distributors strategize their busines plans and position themselves for a much brighter future," said Michele Bell, ASI vice president of editorial, education and special events.
Highlights from the 2021 State and Regional Sales Report include:
Despite losses, the South remains the most robust region in the U.S. for promo sales, thanks to the promo powerhouses of Texas and Florida, which suffered more modest declines and generated over $4 billion in total 2020 promo sales.
Four of the five states that declined the least in 2020 are located in the West, with California generating the most sales in 2020, at $1.6 billion, a 22% decline over 2019.
While South Dakota, Iowa and North Dakota experienced three of the four highest COVID infection rates in the region, they proved among the most resilient in the region for business.
The best-known corporations in the world, along with schools, healthcare companies, financial institutions and nonprofits, rely on promo products like branded T-shirts, mugs and caps to advertise their brand, thank employees and clients and promote their events.
For more information on the 2021 State and Regional Report from ASI Media, contact C.J. Mittica at [email protected].
About ASI
The Advertising Specialty Institute (ASI®; asicentral.com) serves a network of 25,000 suppliers, distributors and decorators in the $20.7 billion promotional products industry. ASI's flagship product, the technology platform ESP®, manages the industry's entire supply and marketing chain. ASI also produces award-winning digital content, live events and educational programs that enable companies in 53 countries to be more efficient, productive and profitable. ASI's media and research operation provides the most authoritative business content in the industry, and the ASI Certification Program features 200+ live and online education courses for industry professionals. The company, family-owned and -operated since 1962, is proud to have been consistently ranked among the "Best Places to Work" in Philadelphia and Bucks County, PA.