ASI Announces Full Schedule for Ramped-Up Chicago Trade Show in July
Booth space is going fast for ASI Show Chicago July 25-27, featuring Top 40 suppliers alphabroder, HPG and Koozie Group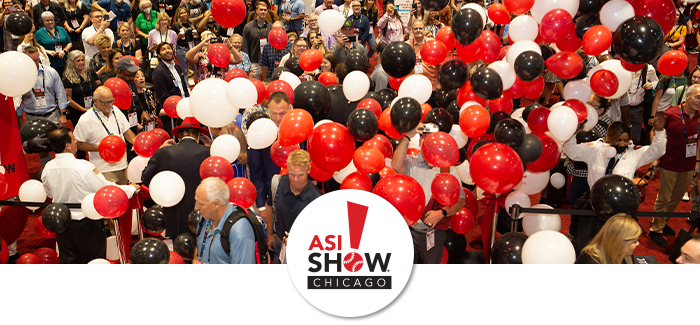 "ASI's Chicago show takes place at a critical time on the sales calendar, when all-important third- and fourth-quarter holiday orders start piling up," said ASI CEO Tim Andrews
TREVOSE, PA – March 21, 2023
The ASI Show today released a dynamic lineup of networking and educational opportunities for its last big trade show of the year, along with a notable list of Top 40 suppliers like alphabroder (asi/34063), HPG (asi/61966), Koozie Group (asi/40480), The Magnet Group (asi/68507), Gildan (asi/56842) and Hit Promotional Products (asi/61125), exhibiting at ASI Chicago, Tues., July 25 through Thurs., July 27, at the lakefront McCormick Place, the largest convention center in North America.
ASI distributor members can register today to take advantage of everything ASI Chicago has to offer, including free sales, marketing and social media classes, critical in-person networking, a keynote by the "Killer Pitch Master" and a panel discussion featuring promo experts sharing insights into issues impacting the industry and their bottom line. Plus, the show floor will be jammed with exhibitor booths showcasing the hottest, in-stock products from top suppliers eager to engage with their distributor partners.
"ASI's Chicago show takes place at a critical time on the sales calendar, when all-important third- and fourth-quarter holiday orders start piling up," said Timothy M. Andrews, president and chief executive officer of ASI, the largest technology and marketing organization in the $25.8 billion promotional products industry. "The energy at ASI's first two trade shows of 2023 was incredible and we're confident we will deliver prime deal-making and new product experiences once again in the great city of Chicago."
The Midwest's No. 1 city remains an ideal meeting destination because there is so much to experience and explore. McCormick Place is minutes from the iconic skyline of downtown Chicago, an art, outdoor and foodie paradise voted "Best Big City in the U.S." six years in a row.
ASI Chicago features:
Keynote with "Killer Pitch Master" Precious Williams. "Captivate, Delight & Excite: Craft the Perfect Pitch To Turn Conversations Into Currency" takes place Thurs., July 27, 8:30-9:45 a.m. In her tactic-packed keynote, Williams will help audience members take their sales pitch from average to outstanding. Watch a short video of Williams in action.
ASI Gala at the world-famous House of Blues, Wed., July 26, 7-10 p.m. in the heart of Chicago, combining music, dancing, art and cuisine with fun networking. Early bird pricing for the gala ends April 15.
New Product Preview Reception, with light snacks and open bar, Tues., July 25, 5-6 p.m., Open to all distributors and participating suppliers. Exclusive preview of ready-to-order hot products.
State of the Industry Panel: Insights From Top Promo Leaders, Wed., July 26, 8:30-9:45 a.m. ASI Vice Chairman Matthew Cohn and four industry executives will zero in on proven strategies for success in the second half of 2023 and 2024. The panelists are: Chris Anderson, CEO of Counselor Top 40 supplier HPG; Donna Bridgeforth, founder and owner of WBE-certified distributor Bridgeforth Wolf & Associates (asi/145800); Liza Sachs, director of sales and vendor relations at Counselor Top 40 distributor Kaeser & Blair (asi/238600); and Tej Shah, head of global sales and marketing at Counselor Top 40 distributor Overture Promotions (asi/288473).
Counselor Awards, Wed., July 26, 5:15-8 p.m. An invitation-only event that honors the Top 40 suppliers and distributors of the year as well as outstanding individuals across the promo industry, including the Person of the Year, recipient of the Lifetime Achievement Award and Distributor and Supplier Entrepreneurs of the Year.
Lunch and Learn, Tues., July 25, 12:30-1:45 p.m. Free to the first 200 distributors who arrive at the event on Education Day, when suppliers reveal the latest product trends.
For information on ASI Show, please contact Andy Cohen, senior vice president of events, media and marketing services, at [email protected]. For info on exhibiting at ASI Shows, contact Meghan DeFrancesco at [email protected]. Check asishow.com for the latest updates and schedules on all ASI shows and events.
About ASI Show
The ASI Show Family of Events features ASI Show, fASIlitate and ConneX, which foster business-building relationships among ASI distributor and supplier members. ASI Shows, the flagship series, are large-scale, in-person convention center trade shows held in Orlando, Fort Worth and Chicago. fASIlitate is a hosted-buyer event that brings together the industry's elite – top suppliers and million-dollar distributors – for three days of scheduled one-on-one meetings in select hotels across the country. ConneX is the largest hosted-buyer event in the promotional products industry. Visit asishow.com for more information on the full event portfolio.