ASI's Counselor Magazine Names 50 Best Places To Work In Promo Products Industry
Troy, VA-based distributor Bright Ideas ranked No. 1 workplace
TREVOSE, PA – March 18, 2022 – The Advertising Specialty Institute® (ASI) today announced the top 50 best places to work in the $23.2 billion promotional products industry, with Counselor® magazine ranking distributor Bright Ideas the industry's number-one company.
Bright Ideas, a small, 23-year-old company that's hit the list eight times, secured the top spot in part for a winning work formula that balances fun, professionalism and a family-first philosophy. Overall ranking was determined by the results of employee surveys on numerous categories like benefits, workload and job satisfaction for each of the 50 companies. Since the start of the pandemic, many companies put their employees first by embracing schedule flexibility and prioritizing clear communication.
ASI's Counselor magazine delivers award-winning digital and print content to industry leaders, distributor decision-makers and top salespeople throughout the promo industry. Its Best Places to Work package profiles companies on the 2022 list and offers information on how to create a great workplace, from motivating employees working in the office or remotely, finding and retaining top talent and creating a superior work-life balance.
To read profiles of all winning companies, visit asicentral.com/BPTW. For each distributor or supplier profile, Counselor delved into company culture and current work model (in person, remote or hybrid), as well as how each company kept employees engaged throughout COVID.
| | | | | |
| --- | --- | --- | --- | --- |
| Share: | | | | |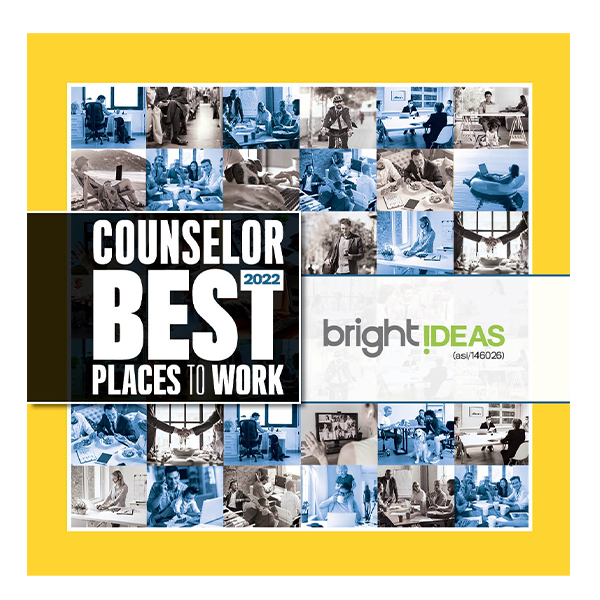 "The companies on this year's list pulled off an impressive feat," said ASI Editor-in-Chief C.J. Mittica

"The companies on this year's list pulled off an impressive feat," said ASI Editor-in-Chief C.J. Mittica. "They've weathered unprecedented economic and societal changes to keep employees productive and happy. They've emerged on the other side as good as or even better than they were before. Join us in celebrating their accomplishments and learn their secrets in making a great place to work."
Out of 50 companies, 22 are making their first appearance on the Best Places to Work list. And 82% now offer hybrid or remote scheduling.
On ASIcentral.com/news, Counselor teased out the 50 best companies in advance of the print issue, unveiling 10 companies each day for five days online, before revealing the final 10 companies, along with the number-one winner.
The vast majority of the top-ranked companies are in the U.S., with three based in Canada. California, Texas and Florida topped the states with the most "best" companies at six, five, and four respectively.
Here are the Top 10 Best Places to Work in promo:
Bright Ideas (asi/146026), distributor from Troy, VA
The Book Company (asi/41010), supplier from Delray Beach, FL
Identify Yourself(asi/232242), distributor from Kitty Hawk, NC
Printable Promotions (asi/299458), distributor from Chicago, IL
Stowebridge (asi/337500), distributor from Chandler, AZ
Doing Good Works (asi/222095), distributor from Irvine, CA
RiteLine (asi/82498), supplier from Dallas, TX
Tic Toc (asi/158990), distributor from Dallas, TX
Weaver Associates. (asi/550019), distributor from Lancaster, PA
Walker-Clay (asi/354530), distributor from Hanson, MA
The Best Places to Work package includes stories on the redefinition of what makes a great place to work, along with a podcast that offered "best tips" from three winning companies.
"What's clear is that what makes a 'best place' has irrevocably changed," said Mittica. "Meeting the desire for flexibility, communicating clearly, empowering employees – all those qualities were important before. Now, they mean everything."
To be named a Counselor Best Place to Work, industry firms participated in a months-long survey process where employees evaluated their company on 17 different qualities. The grading occurred on a 1-5 scale, with 5 being most positive and 1 being most negative. To give an idea of the strength of employee satisfaction among all firms nominated, no company scored less than 3.5 in any one category. Counselor then analyzed the scores to determine the final rankings.
ASI's Counselor magazine has honored top companies in the promotional products industry since 2008, with the exception of 2017, as well as 2020 and 2021, due to dramatic changes in workplaces everywhere wrought by the COVID-19 disruption.
For more information on the 2022 Best Places to Work package, contact C.J. Mittica at [email protected].
About ASI
The Advertising Specialty Institute (ASI®; asicentral.com) serves a network of 25,000 suppliers, distributors and decorators in the $23.2 billion promotional products industry. ASI's flagship product, the technology platform ESP®, manages the industry's entire supply and marketing chain. ASI also produces award-winning digital content, live events and educational programs that enable companies in 53 countries to be more efficient, productive and profitable. ASI's media and research operation provides the most authoritative business content in the industry, and the ASI Certification Program features 200+ live and online education courses for industry professionals. The company, family-owned and -operated since 1962, is proud to have been consistently ranked among the "Best Places to Work" in Philadelphia and Bucks County, PA.