ASI Fort Worth Earns Rave Reviews For Product Sourcing, Education and In-Person Connections
Top industry leaders share optimism, opportunity and advice during opening keynote
FORT WORTH, TX – February 2, 2022 – The three-day ASI Show® Fort Worth trade show, which ended Wednesday, Feb. 2, at the Fort Worth Convention Center, exceeded expectations by attracting nearly 2,300 exhibitor and distributor professionals eager to meet face-to-face, source 2022's hottest products, discuss winning promo campaigns and grow their business.
The show drew a depth and breadth of exhibitors and distributors, including those from 46 states and 10 countries, along with 43 exhibitors brand new to the Texas show, and over half the Top 40 promotional products suppliers, including SanMar (asi/84863), the biggest supplier in the industry, Hit Promotional Products (asi/61125), Showdown Displays (asi/87188), Koozie Group (asi/40480) and HPG (asi/61966).
"Our company was on the fence about attending ASI Fort Worth in 2022, but we decided to give it a go and I'm so happy we did," said HPG's Nick Lateur. "The show floor was consistently busy, and the quality of our conversations was extremely high. We will see some nice returns from attending this year."
Fully Promoted (asi/384000) hosted its national convention in Fort Worth, with more than 100 associates. Its convention included a special panel discussion with industry experts hosted by Timothy M. Andrews, president and chief executive officer of ASI, the largest membership organization in the $20.7 billion promotional products industry. The discussion covered topics like in-house decorating, community/event marketing, online stores, referral programs and lead generation through ZoomInfo.
| | | | | |
| --- | --- | --- | --- | --- |
| Share: | | | | |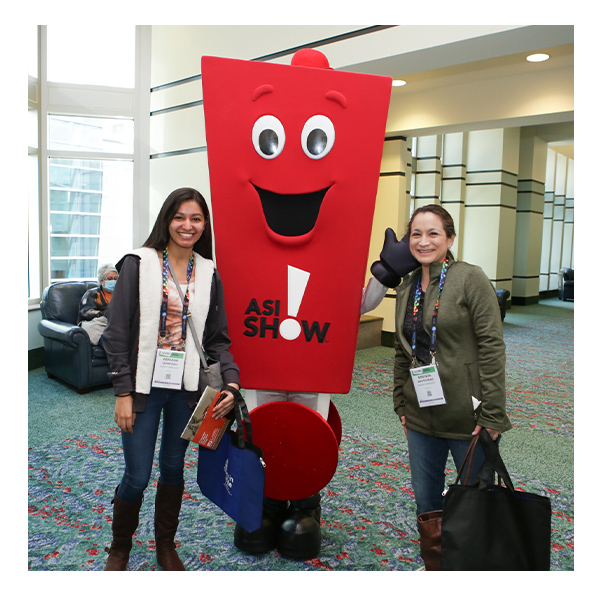 "ASI is on a solid winning streak, coming off our success with ASI Orlando directly into ASI Fort Worth, which delivered on every promise we made to attendees," said ASI CEO Tim Andrews

A number of other Top 40 distributors like HALO Branded Solutions (asi/356000), Proforma (asi/300094) and iPROMOTEu (asi/232119) hosted sales meetings at the Fort Worth show.
"ASI is on a solid winning streak, coming off our success with ASI Orlando directly into ASI Fort Worth, which delivered on every promise we made to attendees," Andrews said. "Everyone is eager to get back to business and the best way to do that is through in-person shows and events, the very lifeblood of the promo industry."
Click here for over 500 photos of all the show action.
ASI Fort Worth (#ASIFortWorth) was ASI's second major show of 2022 in the No. 1 region for promotional product sales and product sourcing. According to ASI Media's annual State and Regional Sales Report, the South continues to lead the nation with promo sales of $7.8 billion, with promo powerhouse Texas alone posting $2.9 billion in promo sales.
Tuesday and Wednesday, distributors scoured the aisles for the latest in-stock products available for shipping at a time of port logjams and inventory shortages, while connecting with suppliers to discuss current promo trends like the importance of sustainability and quality products.
Hazel Tabalbag, a distributor with Jackieboy Design (asi/118898) attending an ASI Show for the first time, said she learned a lot from the numerous classes ASI provides free to distributor members. "I was a little overwhelmed because it's a lot to take in, but the show was so well organized, and I was excited to learn as much as I could and to get to know and become more familiar with potential suppliers."
Suppliers told ASI they were thrilled with the number of substantive conversations they had with their distributor partners.
"Traffic has been great," said Livier Gomez, of Terry Town (asi/90913). "We were almost out of catalogs on day one! Distributors are willing to take the time to learn about the products, find out how and to whom to sell them to and are taking a ton of notes, videos and photos. It's great to see them engage with the products."
Supplier Heather Pritz of Hightech Grafix (asi/60774) said, "We can't get over how many of our new customers found us here at ASI Show Fort Worth! With most of our connections being made over emails and phone calls these last few years, it was great to finally make that personal face-to-face connection. It was also so nice to have the opportunity to see so many of our established customers again."
ASI Fort Worth featured numerous learning opportunities, like Tuesday's panel discussion with top industry leaders on stage discussing emerging trends like higher pricing on bulk items, improving electronic communication and the importance of employee and new hire bonuses in recruiting new staff. The panelists also offered innovative strategies for success in 2022.
ASI Vice Chairman Matthew Cohn moderated the panel discussion with four industry power players: Tracey Barton, director of promo sales for Top 40 distributor Deluxe/Safeguard (asi/316203); Mike Brugger, president of Fully Promoted; Lexi Fiegener, a top sales rep with HALO; and Jon Norris, COO of top supplier Starline (asi/89320).
Glenda Pittard of 3DASAP Promotional Solutions said the panel confirmed that everybody is experiencing the same challenges, but working together toward solutions. "It also illuminated that our industry as whole is coming together and embracing technology," Pittard said. "Being able to stay up to date, in real time, and then share that instantly with our customers helps us to serve them better and more efficiently. Because of technology advancements in the industry, we're very optimistic about 2022."
Product sourcing was key to the success of ASI Fort Worth. On Wednesday, ASI hosted "Promo Showcase Live: The Industry's Hottest Products & Promotional Ideas on Display," featuring Fort Worth's most buzzworthy products along with winning ideas for 2022 promotional campaigns.
Plus, the show offered numerous networking opportunities like the popular New Product Preview reception and a packed Connection Reception, with free food, drinks, networking, and live music from a local band.
Education Day featured 16 classes focused on Distributor Success, Social Media and Marketing, Product Decoration and Business-Building Fundamentals, with Power Sessions on both exhibit days. Education closed with a brand-new interactive "Education Day Wrap-Up: Tactics & Takeaways," with expert ASI Show speakers recapping the most important tips from their sessions.
Registration for ASI Chicago, Tuesday, July 19, through Thursday, July 21, is open. And there are three fASIlitates scheduled for 2022: in Clearwater Beach, FL, March 7-10; Salt Lake City, UT, June 13-16; and Scottsdale, AZ, September 19-22. Plus, ASI's unique hosted buyer event, ConneX, returns October 10-13 at the Arizona Grand Resort in Phoenix, AZ.
Check the ASI Show website (asishow.com) for the latest updates and schedules for all ASI shows and events. Register online today or call ASI's registration specialists at 800-546-3300. Click here to submit registration questions.
About ASI Show
The ASI Show Family of Events features ASI Show, fASIlitate and ConneX, which foster business-building relationships among ASI distributor and supplier members. ASI Shows, the flagship series, are large-scale, in-person convention center trade shows held in Orlando, Fort Worth and Chicago. fASIlitate is a hosted-buyer event that brings together the industry's elite – top suppliers and million-dollar distributors – for three days of scheduled one-on-one meetings in select hotels across the country. ConneX is a 3.5-day hosted-buyer event featuring one-on-one meetings between elite suppliers and top distributors and a half-day Expo. Visit asishow.com for more information on the full event portfolio.