ASI Reports 2020 Distributor Sales Of Promo Products Drop Nearly 20%
Strong Q4 results and $6 billion in overall PPE sales helped industry avert even steeper declines
TREVOSE, PA – February 9, 2021 – The Advertising Specialty Institute® (ASI) today announced total 2020 sales for North American promotional products distributors dropped nearly 20% in the most challenging year the industry has ever confronted. The year-over-year decline was better than expected at the beginning of the coronavirus pandemic, thanks to the industry's pivot to personal protective equipment (PPE) and strong Q4 sales.
Sales dropped, on average, by 19.8% in 2020 compared to 2019, according to the Distributor Quarterly Sales Survey from ASI, the largest membership organization in the promotional industry, with a network of over 25,000 distributors and suppliers.
"Everyone in the promotional products industry should be proud of the supreme effort everyone made throughout the global pandemic, with many suppliers producing critically-needed PPE products like face masks that helped save lives," said Timothy M. Andrews, president and chief executive officer of ASI. "Confronted with the toughest selling year in our industry's history, suppliers and distributors fought back hard, quickly getting up to speed on new markets, unfamiliar products and creative solutions. They refused to give up, pushing ahead one step, one day, one sale at a time. The year's final sales tally is proof of their determination and grit."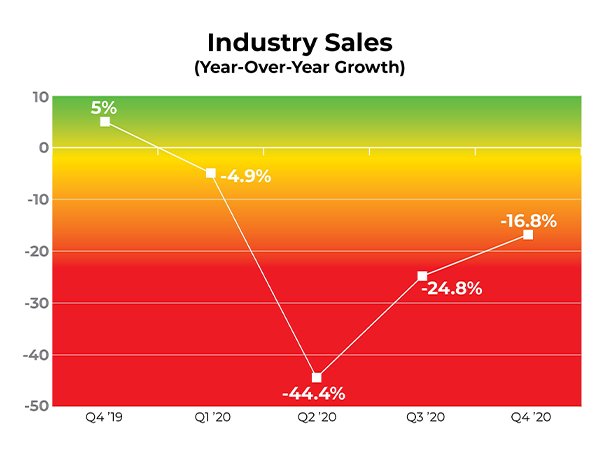 "Confronted with the toughest selling year in our industry's history, suppliers and distributors fought back hard…The year's final sales tally is proof of their determination and grit," said ASI CEO Tim Andrews

While distributors' total annual sales of $20.7 billion marked the lowest collective tally since 2013, many in the industry had feared a drop of 30%-40%. The industry's pivot to PPE prevented a more precipitous year-over-year decline. PPE/hand sanitizer sales accounted for $6 billion in revenue in 2020 – or 29% of all industry sales. If PPE revenue was excluded from the total, distributor sales would have fallen 43% for the year.
"Considering the situation, I'd say the market is surprisingly strong," said Matt Eckhouse, vice president and general manager of Top 40 distributor Staples Promotional Products (asi/120601). "We certainly met 2020 with creative solutions for new customer needs, including PPE, and this data shows other distributors did as well."
Numerous companies especially hard hit by a nearly year-long shutdown of trade shows, conferences, sporting events and fundraisers, successfully pivoted from selling their trademark promo products to providing PPE like face covers, sneeze guards, distance dots and sanitizer displays.
In the fourth quarter of 2020, traditionally promo's strongest quarter, distributor sales were down just under 17% year-over-year, a significant improvement from the 44.4% plummet in Q2.
According to ASI's sales analysis, the industry's largest distributors – those with revenue of more than $1 million – fared the best in 2020, with sales being down, on average, by 15.3% compared to 2019. Meanwhile, the industry's smallest distributors – those with revenue of $250,000 or less – reported an average year-over-year sales drop of 33.1%.
Sales of promo products are fueled by branded items like T-shirts, caps and pens that companies typically give away to promote their business, brand or event, or to thank employees or clients. ASI's most recent Global Ad Impressions Study on return on investment (ROI) shows promotional products consistently rank among the most influential, enduring and cost-effective advertising mediums available.
"Now more than ever, businesses need and demand the best possible ROI and bang for their buck, along with the smartest use of limited marketing dollars," said Andrews. "Armed with our stats, distributors calling on clients have the strongest, most convincing tools in the industry to make an unbeatable case for choosing promo products above all other advertising, especially for clients re-building their brand, re-opening or trying to boost long-shuttered businesses."
The ASI report also shows that the Counselor Confidence Index, which measures the financial health and optimism of distributor companies, rose from 76 in Q3 to 85 in Q4. It's another indicator of the industry's rebound, as the index reached a record low reading of 54 in Q2. The baseline reading is 100.
Industry sales in 2019 hit a record $25.8 billion, up 4.7% from 2018 and breaking a distributor sales record for the 10th consecutive year.
For more information on ASI's sales reports and research, contact Nate Kucsma, executive director of research and corporate marketing, at [email protected].
About ASI
The Advertising Specialty Institute (ASI®; asicentral.com) serves a network of 25,000 suppliers, distributors and decorators in the $20.7 billion promotional products industry. ASI's flagship product, the technology platform ESP®, manages the industry's entire supply and marketing chain. ASI also produces award-winning digital content, live events and educational programs that enable companies in 53 countries to be more efficient, productive and profitable. ASI's media and research operation provides the most authoritative business content in the industry, and the ASI Certification Program features 200+ live and online education courses for industry professionals. The company, family-owned and -operated since 1962, is proud to have been consistently ranked among the "Best Places to Work" in Philadelphia and Bucks County, PA.