ASI Launches Revolutionary ESP+ Platform
Powerful platform brings together suppliers and distributors worldwide, transforming online collaboration and super-charging business performance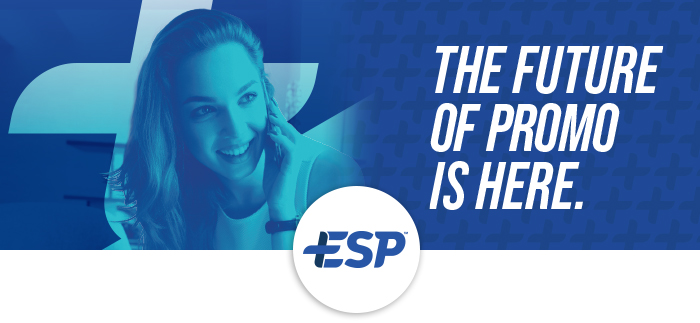 "ESP+ is where entrepreneurs and 21st century marketing professionals can collaborate seamlessly to run and grow their entire business," said ASI CEO Tim Andrews
TREVOSE, PA – January 5, 2023
The Advertising Specialty Institute® (ASI) today officially launched ESP+, an intuitive, integrated and innovative platform designed to blast the promotional products industry into a new millennium, armed with the best technology in the business.
"ASI's ESP+ platform is a call to action," said Timothy M. Andrews, ASI president and chief executive ­­officer. "As the promo industry recalibrates post-Covid and gets serious about automating and streamlining operations, ASI is committed to integrating tens of thousands of distributors and suppliers on a single platform. ESP+ is where entrepreneurs and 21st century marketing professionals can collaborate seamlessly to run and grow their entire business. A faster, easier, more intuitive and more collaborative platform leaves distributors more time for selling."
To be among the first distributors to start working in the new ESP+ and to book a demo, visit www.asicentral.com/migrateme. Watch a short video ASI debuted at the launch of ESP+ during ASI's Orlando trade show, where over 4,000 distributors were invited to test drive ESP+.
"This is the beginning of a journey, for both ASI and promo professionals committed to offering ideas and solutions, along with products, that meet the needs of a new generation of buyers and consumers," Andrews said.
Designing, building and testing of ESP+ began over three years ago, with each aspect of ESP+ specifically designed with efficiency, speed and the success of ASI members top of mind. ASI's product development team worked closely with users every step of the way, considering their valuable feedback with each advancement. All new features and functionality undergo rigorous research, evaluation and quality testing before being released to users.
"During testing and development, hundreds of suppliers and distributors shared their pain points with our team and we worked hard to meet their biggest challenges," Andrews said. "The industry spoke – and we listened. ESP+ delivers what today's promo companies want and need to meet the future head-on."
ESP+ features and benefits to date are too numerous to list, but include the revolutionary, game-changing Client Portal. The time-saving Client Portal is accessed via a custom URL, becoming the main communication hub between the distributor and clients throughout the buying experience – eliminating numerous back-and-forth calls and emails.
Through the one-stop Client Portal, an ESP+ user can now:
View Presentations, receive quote requests, confirm orders, approve artwork and track shipping – all in one place, speeding up the entire process.
Make live updates and get instant feedback. Distributors can update their Presentations right in ESP+, without having to continually resend to clients.
Collaborate, interact and exchange promo ideas with clients and prospects at any time.
Send invoices through the portal itself, streamlining the workflow.
Distributors can simply enter a prospect or client web address and ESP+ automatically populates Presentations with the client's logo and primary brand color. ESP+ also provides superior CRM, at-a-glance project management to organize all client orders, and the ability to collaborate with other users in the same company. The lightning-fast ESP+ is mobile-friendly, making it easier to do business, refine pricing, update a Presentation or convert a quote on the go. ESP+ is also accessible anytime, anywhere on both Mac and PC.
Reviews of ESP+ from among the first 2,000 users currently on the platform, with more users added every day, include:
"Collaboration can't get any easier. That's huge. Somebody gets a gold star for this one."​
"Everything ties together!"
"ESP+ is awesome."
"The new layout is pretty slick."
At launch, ESP+ is available for licensed users at www.espplus.com. In coming months, the ASI team will review existing data and order history for ESP® Web and ESP Online users and plot a migration path to ensure all customer and other information is transferred seamlessly for each user to the new ESP+ platform. In addition, throughout 2023, ASI will continue researching and releasing new features and functions for ESP+.
For more information on ESP+, contact Bob DeFord, ASI's senior vice president of distributor sales and marketing, at [email protected].
About ASI
The Advertising Specialty Institute (ASI®; asicentral.com) serves a network of 25,000 suppliers, distributors and decorators in the $23.2 billion promotional products industry. ASI's flagship products, the technology platforms ESP® and ESP+, manage the industry's entire supply and marketing chain. ASI also produces award-winning digital content, live events and educational programs that enable companies in 53 countries to be more efficient, productive and profitable. ASI's media and research operation provides the most authoritative business content in the industry, and the ASI Certification Program features 200+ live and online education courses for industry professionals. The company, family-owned since 1962, is proud to have been consistently ranked among the "Best Places to Work" in Philadelphia and Bucks County, PA.