ASI's Popular 'Promo in the Wild' Social Media Campaign Returns
See promotional products anywhere? Post pics to ASI's Facebook, Instagram and Twitter pages to showcase promo's power and reach
TREVOSE, PA – June 30, 2022 – The Advertising Specialty Institute® (ASI) today announced the return of its popular, award-winning social media campaign, "Promo in the Wild," designed to help spread the word about the power and popularity of promotional products. Members of the promo industry can participate in ASI's annual summer campaign by tagging and posting photos of any logoed or branded items spotted "in the wild."
Through July 31, industry members can compete for Amazon gift cards by joining in the online campaign, creating social media posts with the hashtag #PromoInTheWild and tagging one of three ASI social media accounts.
ASI's 2020 and 2021 summer campaigns generated thousands of impressions along with positive feedback across social media platforms.
Here's how "Promo in the Wild 3.0" works:
| | | | | |
| --- | --- | --- | --- | --- |
| Share: | | | | |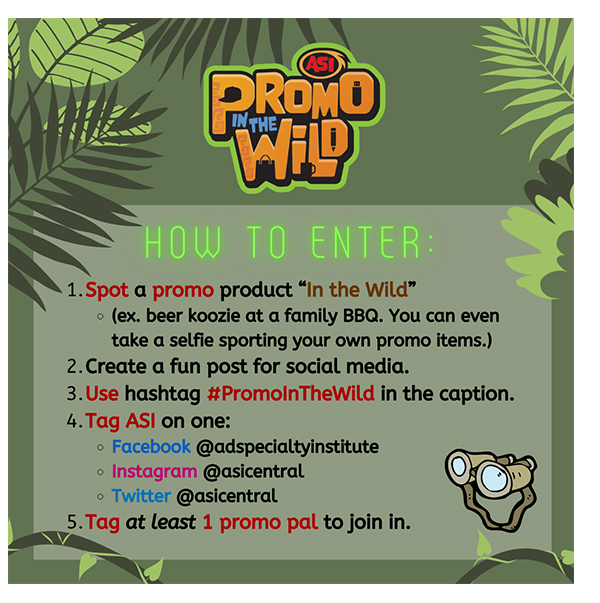 Take a pic of any promo product spotted "in the wild," like a logoed beach towel, a branded can cooler or a logoed cap or T-shirt. Or take a selfie sporting your own promo items.
Create a fun post for social media.
Use hashtag #PromoInTheWild in the caption.
Tag ASI on one of the following platforms:
Tag at least one promo pal so they also join in the fun.
ASI will choose one #PromoInTheWild post per week and award an industry member with a $25 Amazon gift card.
"Promo products are seen literally everywhere – at the beach, on the street, at concerts and events, in our homes and cars as well as in the office," said ASI Social Media Producer Elieza Bague. "With the help of the promo industry, ASI will prove the far reach of logoed products to thousands of people by showcasing them across social media."
The annual #PromoInTheWild campaigns have earned several awards, including a Gold from the Hermes Creative Awards, an international competition for creative professionals, and a national Jesse H. Neal Award for Best Use of Social Media.
For more information on ASI's #PromoInTheWild campaign, email Elieza Bague at [email protected].
About ASI
The Advertising Specialty Institute (ASI®; asicentral.com) serves a network of 25,000 suppliers, distributors and decorators in the $23.2 billion promotional products industry. ASI's flagship product, the technology platform ESP®, manages the industry's entire supply and marketing chain. ASI also produces award-winning digital content, live events and educational programs that enable companies in 53 countries to be more efficient, productive and profitable. ASI's media and research operation provides the most authoritative business content in the industry, and the ASI Certification Program features 200+ live and online education courses for industry professionals. The company, family-owned and -operated since 1962, is proud to have been consistently ranked among the "Best Places to Work" in Philadelphia and Bucks County, PA.